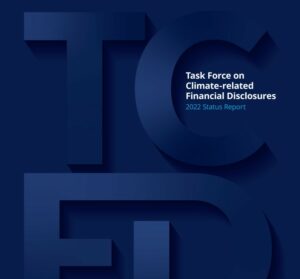 TCFD is pleased to announce the release of the 2022 Status Report. This year marks five years since the TCFD's final recommendations were published in 2017, and the report assesses developments over the past five years, including the state of climate-related disclosure, perspectives on TCFD implementation, and opportunities for further progress.
As part of its assessment, the Task Force reviewed publicly available reports of over 1,400 companies from five regions and eight industries to better understand current climate-related financial disclosure practices and their evolution.
In line with increased investor demand for climate-related financial disclosures, the average number of TCFD recommended disclosures addressed per company has grown by an average of 32% annually since 2017 — increasing from 1.4 to 4.2 over the past five years. In addition, 80% of organizations disclosed in line with at least one of the TCFD-recommended disclosures for fiscal year 2021, but only 40% disclosed in line with at least five, which still falls short of reporting across all the TCFD's 11 recommended disclosures.
Other key progress:
60% of the companies reviewed disclosed their climate-related risks or opportunities in fiscal year 2021 reports – up from 27% in fiscal year 2017 reports
More than 1,300 additional organizations pledged support for the TCFD in the past year alone
TCFD supporters now span 101 countries and jurisdictions across nearly all sectors of the economy
TCFD supporters have a combined market capitalization of $26 trillion
92 of the 100 largest public companies support the TCFD, report in line with the TCFD recommendations, or both