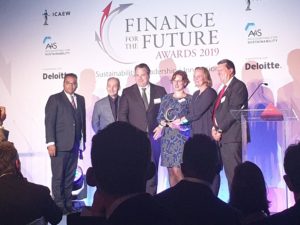 ABN AMRO yesterday received the 'Finance for the Future Award 2019' in London in the category 'Communicating integrated thinking'. An award for their communications on integrated thinking leading to the bank's integrated report and impact report.
The Finance for the Future Awards recognise finance functions driving sustainable economies. We are looking for examples of good practice that could be transformational in building a sustainable organisation.
The rigorous nature of the assessment process and the seniority and expertise of the judging panel seal the credibility of Finance for the Future Awards and set them apart from other award programmes.
The awards are free to enter and open to all individuals and organisations globally.