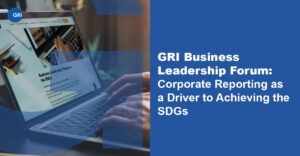 How can companies use reporting data to drive action in support of the UN Sustainable Development Goals (SDGs), ensuring the transparency that enables the private sector to effectively contribute to accomplishing these Global Goals? Exploring this issue has been central to the GRI Business Leadership Forum (BLF) on Corporate Reporting as a Driver to Achieving the SDGs. Launched in March 2021, this two-year program brings together a cohort of sustainably focused companies, with regular online sessions on how to raise the quality and relevance of SDG-related information.
Two publications – covering key insights from BLF discussion sessions held between the businesses, key stakeholders and data users – have been made available so far:
Addressing the biggest challenges in the SDG reporting landscape and highlighting where companies can make improvements, they include:
Using a materiality assessment, linked to SDGs priorities areas, to identify the issues that matter most;
Applying internationally recognized reporting frameworks, such as the GRI Standards, to effectively measure and disclose the business contribution to the SDGs;
Taking accountability for both positive and negative SDG impacts, and communicating how they relate to the overall business strategy.
Mel Melis, Colm McDaid, Makiko Morita and Mizuho Kondo from Fujitsu Sustainability Unit, are BLF participants. They said: "As a global company, it is important for Fujitsu to make sure that global and local initiatives are well-aligned in order to generate the greatest impact we can and to deliver quality reporting. Understanding the links between our corporate purpose, 'to make the world more sustainable by building trust in society through innovation'. The SDGs are the first step for each employee in making a commitment to the globally prioritized issues for the company as a whole, while recognizing the needs of each country and region."
Gerbrand Haverkamp, Executive Director, World Benchmarking Alliance, participated as a guest speaker in a BLF session in May. He said: "Companies that measure, manage and report their impacts on the SDGs help the world move towards a sustainable future that works for everyone."
The diverse and global BLF membership include: ABB Group, Baxter, Cemex, Cigna, City Developments Limited, Enel, Eni, Ferrero, Fujitsu, Groupo Bimbo, IHS Towers, Inditex, JTI, Mosaic, Prysmian Group, and Salesforce.
The two BLF summary papers provide a synopsis of the discussions from the first two sessions, with benchmarks and rating agencies, and with government and policymaker representatives. A further five sessions – each with a different stakeholder group – are following the same approach: post-workshop reports will be made freely available to the global sustainability and business community.