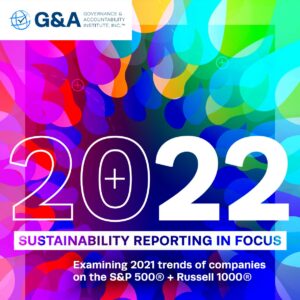 G&A is pleased to share the 11th annual edition of our research series tracking the sustainability reporting trends of the largest U.S. publicly-traded companies. For the entire Russell 1000 Index, 81% of the Russell 1000 companies published a sustainability report in 2021, up from 70% in 2021.  The number of reporters in the smallest half by market cap of the Russell 1000 index rose to 68% in 2020 from 49% in 2020, showing that corporate sustainability reporting is increasingly being adopted as a best practice by mid-cap companies. 
Governance & Accountability Institute, Inc. (G&A) is a consulting and research organization providing services to help both publicly-traded and privately-owned companies enhance their environmental, social, and governance (ESG) and sustainability reporting and profiles. Investors use ESG profiles and ratings to evaluate companies and make investment decisions. Other stakeholders are monitoring the ESG profiles of companies to gauge progress on a range of issues, including climate change, human rights, and diversity, equity, and inclusion. One of G&A's core specialties is helping companies enhance ESG disclosure and more effectively embrace the leading reporting frameworks and standards, with the goal of publishing structured reports with decision-useful data on material ESG topics and performance.
For the complete 2022 Sustainability Reporting In Focus Research Report with comparisons of the smallest and largest halves of the index, please complete the form on this page to download your copy of the report.