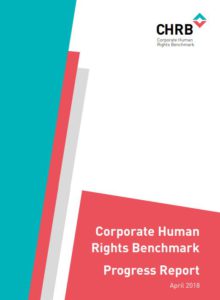 The Corporate Human Rights Benchmark has led to a surge in human rights reporting since it was launched a year ago, but the failure of more than a quarter of companies to engage is cause for deep concern, says Magdalena Kettis of Sweden's Nordea Bank
It is almost seven years since the UN adopted the Guiding Principles on Business and Human Rights, and there are now positive signs that more companies than ever before are taking steps to address gaps in their human rights management. A race to the top is starting to take root, spurred not just by new legislation (such as the UK's Modern Slavery Act) or civil society pressure but also by investors' initiatives to stimulate competition on the issue.
One of these is the Corporate Human Rights Benchmark (CHRB), which ranks 100 of the world's largest apparel, agriculture and extractives companies on human rights. We are now beginning to see how the introduction of competition and ranking on corporate human rights performance is catalyzing some companies to take action on human rights.
Since the launch of the pilot benchmark in 2017, CHRB has seen a domino effect of corporations taking action in reporting on human rights and committing to transparency.