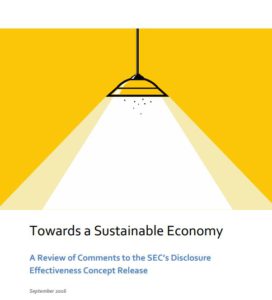 Nine groups—the AFL-CIO; Americans for Financial Reform; the Center for American Progress; Ceres; the Financial Accountability & Corporate Transparency, or FACT, Coalition; the International Corporate Accountability Roundtable; Patriotic Millionaires; Public Citizen; and US SIF: The Forum for Sustainable and Responsible Investment—are joining together to urge the U.S. Securities and Exchange Commission, or SEC, to strengthen corporate disclosure requirements. The call for greater disclosure comes in response to SEC Chair Mary Jo White's Disclosure Effectiveness Initiative to identify and reform such requirements, and the SEC's Concept Release, which asked for public feedback on the frequency and formats of companies' disclosures, accounting practices and standards, and the substantive areas that should be disclosed.
The coalition today released a report analyzing the more than 26,000 comments received in response to the SEC's concept release. The report finds that commenters expressed clear support for expanded and enhanced disclosures, particularly in the areas of taxes, the environment and climate change, political spending, human capital and workforce issues, human rights, and financial stability risks. Commenters identifying themselves as institutional investment managers, public pension funds or trustees, private pension funds and trustees, religious investors, professional investment advisers, research analysts, public interest advocates, individual members of the public, academics, individual policy experts, broad-based investor organizations, investor organizations dedicated to improving disclosures, standards-setting organizations, accountants, and members of Congress generally supported expanded and enhanced disclosures.
"The AFL-CIO is proud to join such a diverse group of investors and advocates in calling on the SEC to use this disclosure effectiveness review to improve transparency for the benefit of investors, companies, and our markets," said Heather Slavkin Corzo, director of the AFL-CIO Office of Investment. "We hope that the SEC will take note of the diverse coalition of investors at today's event and the strong consensus that has formed in opposition to a corporate-focused approach to disclosure reform."
"Environmental, social, and governance information is material to investors; it's information they need to appropriately assess public companies and their increasing complexity in a changing world," said Andy Green, Managing Director of Economic Policy at the Center for American Progress. "Providing investors and the public with high quality information that is comparable across companies will protect investors, enhance financial stability, and better align investors, executives, stakeholders such as workers, and the public for shared long-term success. The overwhelming investor response makes it clear that the SEC needs to take steps to improve disclosures."
"Investors are more concerned than ever before about sustainability issues such as climate change because of the financial risks they pose to companies," said Mindy Lubber, president of Ceres. "Even as climate risks are growing, the SEC has done little to ensure that companies are providing adequate disclosure on these material issues. It's long past time for the SEC to make sure that companies are being transparent about these risks so that investors can make better long- and short-term investment decisions."
"The call for greater disclosure of offshore profits and risky international tax strategies was almost universal among those who commented—and it's no wonder.  At more than $2 trillion, it's a lot of money. Management has the information, and the IRS will soon be getting it. The only ones left in the dark are the investors who put their money at risk," said Gary Kalman, executive director of the FACT Coalition.
"Human rights policies, practices, and impacts are material to investor decision-making processes. Propelled by investor demand for this information, many companies are voluntarily reporting on the issue, while regulators across the world are increasingly requiring them to do so," said Amol Mehra, director of the International Corporate Accountability Roundtable.
"As an investor—one who has been entrusted with helping to safeguard other people's money over many years—I understand the value of the disclosures by American public companies. Investors need to know the risks they face if they are to put their own money or that of their clients on the line, and there are substantially greater risks for companies that pay no taxes in a country where they sell their products," said Morris Pearl, former managing director at BlackRock Inc. and chair of the Patriotic Millionaires. "We must protect the integrity of the market, and we can start with the SEC requiring companies to report information about where they do business and how much and to whom they are paying their taxes."
"The outcry for more and better information to reflect our current corporate reality has grown exponentially over the last decade, with investors asking the SEC to update its requirements in areas ranging from corporate political spending to environmental impacts to tax avoidance behaviors and more," said Lisa Gilbert, director of Public Citizen's Congress Watch division. "Investors understand that with these activities happening in the dark, they have no way to accurately assess the risks companies are taking with their invested money. The SEC has a clear responsibility to react to what has become a fever pitch of demand and to implement new disclosure requirements in these areas."
"US SIF Foundation research shows that professionally managed assets engaged in one or more strategies of sustainable and impact investing grew 76 percent, from $3.74 trillion to $6.57 trillion between 2012 and 2014. As a result, there is an increased demand from investors for high quality corporate sustainability reporting," said Lisa N. Woll, CEO of US SIF. "However, the lack of comprehensive, comparable, and reliable disclosures hinders the ability of investors to most effectively incorporate environmental, social, and governance information into investment decisions. The SEC should rapidly increase the disclosure required of companies on a broad range of environmental, social and governance issues."
Click here to read "Towards a Sustainable Economy: A Review of Comments to the SEC's Disclosure Effectiveness Concept Release."