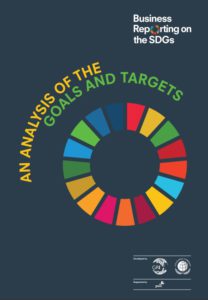 Today, 21 September, GRI and the UN Global Compact launched the first outcome publication of their groundbreaking Action Platform for Business Reporting on the SDGs at the UN Global Compact Leaders Summit in New York. The publication An Analysis of the Goals and Targets, demystifies the esoteric world of sustainability disclosures for companies seeking to report their impact on the SDGs.
"Achieving the Sustainable Development Goals (SDGs) opens up US$12 trillion in market opportunities," states the 2017 report of the Business and Sustainable Development Commission, titled Better Business Better World. This promising finding is one reason why an increasing number of companies are incorporating the SDGs into their core business strategies and operations. Contributing to these global goals helps businesses meet their own moral responsibility, and address the rising demand from their stakeholders for responsible and sustainable business practices.
The roadblock that most businesses face in this context, however, is the lack of a uniform methodology for measuring and reporting their contribution to the SDGs. Reporting on the 169 targets that fall under the scope of the 17 SDGs is a daunting task, particularly for many small and medium enterprises (SMEs).
The publication An Analysis of the Goals and Targets, is an inventory of possible disclosures per SDG, at the level of the 169 targets. To facilitate transparency, a set of disclosures were developed – both qualitative and quantitative – based on globally accepted disclosure frameworks for businesses. These disclosures are linked to a menu of potential actions businesses can take to contribute to the SDGs.
Download the publication (pdf)