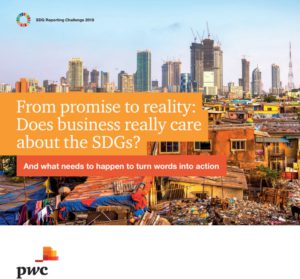 PwC published it's 2018 SDG Reporting Challenge, having looked at the corporate and sustainability reporting of over 700 listed companies across 21 countries and six broad industry sectors, to test the integration of the SDGs into business strategy, planning and reporting. The report concludes says that despite the SDGs being part of global business conversations for over three years, and a significant number of companies pledging a commitment to the goals, there remains a gap between companies' expressed intentions and their ability to embed the SDGs into actual business strategy and report on it.
This year's research expands on the 2017 work to understand the SDG priorities of individual companies and analyse the quality of their SDG reporting. We have evolved the SDG Reporting Challenge to look at the largest listed companies from each participating country and territory and understand the trends in SDG reporting for the most influential companies in the world, including tracking performance on key indicators to allow benchmarking opportunities between sectors, countries and territories.
Central to the research is an analysis of whether companies are mentioning the SDGs in their reporting on business strategy, as we believe this is a key indicator of whether change is being made to the level and scale that will be necessary to achieve the Goals.
Main conclusions:
72% of companies in the  study mentioned the SDGs in their corporate and 72% sustainability reporting of companies have identified priority SDGs
50% of companies have identified priority SDGs
28% disclosed meaningful Key Performance Indicators (KPIs) related to the Goals – suggesting the selection of priority SDGs isn't backed up by meaningful action or monitoring
27% of the total companies mentioned SDGs as part of their business strategy
Viewing the results as a whole, it appears that while the majority of companies are keen to talk about the SDGs they have yet to get specific about how they're embedding them into strategies and actions. Why is this happening? PwC believes that, while there is a clear appetite for embracing the SDGs, many organisations still lack the strategy, tools and culture needed to transform those commitments into tangible business actions. That has a knock-on effect in terms of measuring and reporting on their progress in meeting the Goals. As a result they are unable to demonstrate to investors, peers and their own employees how and why the SDGs are helping improve their overall business, both now and sustaining it for the long term.