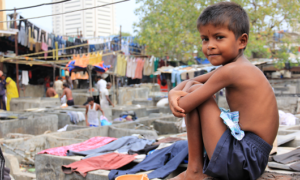 Companies impact poverty, and poverty, in turn, impacts them. Businesses, therefore, have an important role to play in eradicating poverty and supporting sustainable development. The benefit is mutual – stronger economies and stable societies create vast opportunities for growth in new markets.
​Transparency is a key success factor in private sector efforts towards eradicating poverty. Businesses must have a way of measuring, monitoring, and communicating their commitment and impact on poverty alleviation.
In September last year, GRI embarked on a research project to uncover the concrete connections between sustainability reporting and poverty alleviation, through a series of focus groups, interviews, a deep-dive case study by the Overseas Development Institute (ODI), and an extensive analysis of sustainability reports. The research project, funded by the Swedish International Development Cooperation Agency (Sida) and the UK Department for International Development (DFID) has culminated in a new GRI publication 'Can corporate reporting help end poverty?' The publication presents vital findings from this research project, such as the need for companies to move beyond philanthropy and community engagement, towards strategies with large-scale impacts.
Do companies report about poverty?
The research revealed that companies do report on their efforts to alleviate poverty: of the 107 reports analyzed, 72% included information about the company's impact on ending poverty.
The research identified six contexts in which poverty is reported:
Philanthropy, including corporate donations in terms of foundation funding, and volunteer work;
Community engagement activities, involving local people in a direct relationship and dialogue to help address their needs and expectations;
Risks, posed by external sources, the environment, compliance regulations, customers or operations;
Operating context, motivating company decisions to locate and generate employment in specific regions;
Direct economic impacts, measured in terms of actual financial transactions, and indirect economic impacts, resulting from monetary flows such as income redistribution; and
Business development, based on the adoption of new approaches, such as inclusive supply chains, products and services for low income groups, and small and medium-sized enterprises.
Reporting helps take the pulse of the private sector's perspectives and action on poverty. Understanding the contexts in which businesses report on poverty – and therefore their role and responsibilities in contributing to its alleviation – provides an essential baseline. The research shows that most business action related to poverty falls into the contexts of philanthropy and community engagement. On the upside, this means companies are engaging in poverty alleviation and proactively playing a part in their communities, helping tackle the issues of direct importance to them. On the downside, these are typically one-to-one interventions; in a world where nearly 1 billion people are living in extreme poverty, solutions that are immediately scalable are needed.
As highlighted by GRI's Deputy Chief Executive Teresa Fogelberg, "We are encouraged to find that companies are already reporting on their efforts to alleviate poverty, but our findings have also signaled that there is a long way to go to move toward more strategic, scalable interventions, and shift from outputs to outcomes."
The greatest opportunity for the private sector to contribute to poverty alleviation is through their direct and indirect economic impacts, as well as business development. However, the research showed that companies are not yet as active in this space as they are in the more traditional areas of philanthropy and community engagement. Nevertheless, there is great potential:
Direct and indirect economic impacts: If harnessed strategically with poverty alleviation in mind, companies could generate large-scale impacts through the economic empowerment of employees, suppliers, and other business-related multipliers.
Business development: By including low income populations in the formal economy and finding ways to serve their essential needs, companies can significantly contribute to poverty alleviation on a global scale.
Increasing corporate impacts
With businesses under pressure to drive sustainable economic development, it is important to understand the motivations that drive private sector actions towards fighting poverty, and to identify areas that need attention. Sustainability reporting provides insights into the predominant thinking of businesses and presents the context in which the bulk of their activities occur. Next to helping companies optimize and communicate their impacts on poverty, sustainability reporting also allows policy makers, investors, civil society and other stakeholders to gauge the commitment of companies towards poverty, and take action. The new GRI publication 'Can corporate reporting help end poverty?' offers specific recommendations for companies as well as different stakeholder groups, to unlock the potential of sustainability reporting in the fight against poverty.