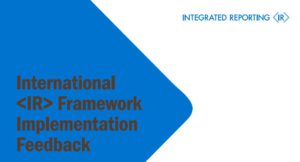 Results published today from the first worldwide consultation on how companies are adopting integrated reporting since the International <IR> Framework was released in 2013, show how the focus has moved from one of initial acceptance to progress in actual implementation.
Following the global 'Framework Feedback Exercise' the International Integrated Reporting Council (IIRC) is today announcing a series of guidance, thought leadership and case studies to help clarify, simplify and amplify the move towards integrated reporting internationally.
Over 1,500 businesses in 62 countries globally are now integrating the goals of sustainable development and financial stability to support their reporting, which has been identified across the world as the future 'norm' for corporate reporting.
The consultation in to adoption of integrated reporting conducted over two months earlier this year, received over 400 contributions including from focus groups held in 19 countries around the world.
The review found that the <IR> Framework, is standing up to the test of implementation.
It demonstrated that the concepts of Integrated Reporting have been widely accepted and embraced, with the focus now on enabling better implementation.
Releasing the results at the IIRC Convention 2017 currently being held in Amsterdam, Netherlands, the IIRC announced it will be releasing guidance and thought leadership on a series of topics to meet concerns and questions raised in the exercise.
This includes guidance on how to apply the IIRC's 'multi-capital' model; how to access intellectual, human, and social and relationship capital metrics to suit your unique circumstances; and research on how information and improved decision making can better connect.
The IIRC is also committing to working closely with market players to help simplify the corporate reporting landscape.
Commenting on the findings of the review, Richard Howitt, CEO, IIRC said:
"It is clear that businesses are finding the effects of adopting integrated reporting transformational. But of course there are challenges in making that transition for integrated reporting to become the global norm.
"Through the guidance which we are announcing today and the case studies which we will produce, I believe that we will help businesses get the most out of corporate reporting and to help meet those challenges.
"The IIRC will continue to be grounded in the needs of the market as we develop thinking around areas such as the capitals, conciseness and connectivity. Our commitment is to clarify, simplify and amplify integrated reporting to drive its adoption worldwide.