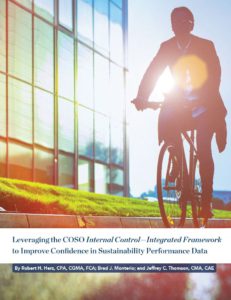 The use of effective internal controls around sustainability performance data is not just a 'nice to have'; it's a must-have. 
Investors, financial analysts, and rating agencies around the world are increasingly seeking relevant and trustworthy reports on sustainability performance to help guide their assessments of a company's value-creation capacity and capability. Therefore, companies that utilize effective internal controls around nonfinancial data will earn greater confidence from key stakeholders and likely earn a value premium relative to their peers.
It is in this spirit that Brad J. Monterio, Jeffrey C. Thomson, and I have coauthored a thought paper, Leveraging the COSO Internal Control—Integrated Framework to Improve Confidence in Sustainability Data. Stated simply, we believe that effective internal controls are good for business and good for society.