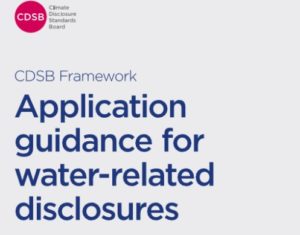 CDSB invites comments from multi-stakeholders on the CDSB Application guidance for water-related disclosures and how it can support the integration of material water-related information in corporate mainstream reports.
About the guidance
The CDSB Framework application guidance for water-related disclosure (Water Guidance) has been produced by the Climate Disclosure Standards Board (CDSB) to assist companies in the disclosure of material water-related information in the mainstream report. It is designed to complement the CDSB Framework for reporting environmental and climate change information (CDSB Framework) and other frameworks, codes and recommendations that are aligned with some or all of the requirements of the CDSB Framework. The Water Guidance offers companies a means of developing their reporting practices and ensuring that investors are receiving the material water-related information needed for effective capital allocation to drive the transition to a sustainable, resilient, and water secure economy.
How to take part in the consultation?
Complete the form and send it back via the submission tool or by email: francesca.recanati@cdsb.net
Who should participate?
This consultation is open and public, allowing multi-stakeholders to contribute their comments, including but not limited to: corporates, institutional investors, financial institutions, asset owners and managers, governments, civil society, academics, intergovernmental organisations, professional bodies and others.
When is the submission deadline?
Date: 1 March 2021
Time: 12:00pm GMT