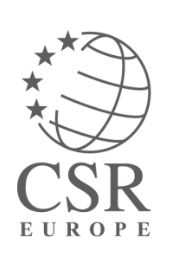 Through the work CSR Europe does with companies and stakeholders at CSR Europe, the organisation has recognised over the years the importance of transparency in managing organisations responsibly. CSR Europe is pleased to announce that we have fully embraced this approach and applied it to our own organisation and produced their first ever CSR Europe report.
Our report aims to provide insight into what makes our organisation sustainable in the short, medium and long-term by looking at who we are, outlining our values and vision of the future, and setting these in the context of our projects and operations.
Whether you are familiar with our organisation or not, this report is bound to be a useful window into what we are working on and contributing to, as well as what we offer to our network and where we are going in the future.