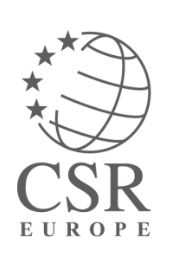 CSR Europe is reinforcing its work on governance and accountability through a new work stream on tax and responsible tax behaviour.
This development stems from the expert roundtable that CSR Europe hosted successfully on September 27-28 in Brussels. The event brought together representatives from the business sector, civil society and EU/international organisations to discuss the following three issues:
How to support companies to move from tax transparency towards responsible tax behaviour.
How to prepare companies to the new EU legislation on Country-by-Country Reporting to tax authorities (already adopted) and to the public (currently under discussion).
How to identify further actions needed to address companies' challenges in this field.
The overall discussion and the elements highlighted during the roundtable offered CSR Europe some food for thought on potential actions to help companies to build a transparent and sustainable tax strategy.
It is with this precondition that CSR Europe intends to launch a new project to scale up its activities on this topic. The project's three main deliverables will be:
To assess: where companies stand on tax transparency and responsible tax policies;
To learn and share: Support companies to move from tax transparency towards responsible tax behavior through a learning network which can give inspiration to businesses through a wide array of experiences, knowledge and best practices from front-runners companies, policy makers and civil society actors. A special focus will be also given to prepare companies for the new EU legislations on Country-by-Country Reporting.
Leverage policy dialogue for enhanced impact: Through the creation of an 'unlikely coalition', proactively engage companies, NGOs and policy makers, to advocate together to change the current perception of data about tax payments and policies of companies by the media and the citizens.