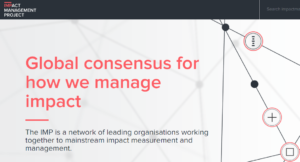 A group of leading global organizations, including the Global Reporting Initiative (GRI), have joined forces to create the Impact Management Project. This network is an unprecedented effort to develop methods to measure the environmental and social impacts of investment decisions. The goal is to align investment with sustainable business practices in order to achieve the Sustainable Development Goals (SDGs).
This network is the next step for the IMP, which became a leading impact measurement methodology as part of Bridges Fund Management.
By joining the key organizations in impact management, this new network aims to bring impact investing into mainstream finance. GRI has long been the global standard for corporate disclosure of environmental, social and governance information. The Impact Management Project network offers a unique opportunity to advance the usage of these disclosures in mainstream investment decision making.
As Tim Mohin, GRI's Chief Executive said, "With ninety-two percent of the largest companies reporting sustainability information and seventy-five percent using the GRI Standards, there is already a vast supply of consistent information. The Impact Management Project network offers the opportunity to unlock the power of this information for mainstream investors. With the leadership of the United Nations Development program, the tools created by this network will have the global reach to help accomplish the Sustainable Development Goals."
The network is an unprecedented collaboration between GRI and the United Nations Development Programme, the International Finance Corporation, the Organisation for Economic Co-operation and Development (OECD), Social Value International, the Global Impact Investing Network, the Principles for Responsible Investment, the World Benchmarking Alliance, and the Global Steering Group for Impact Investments.