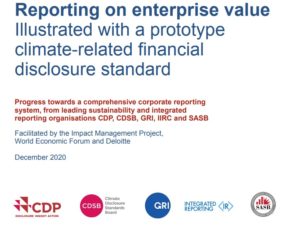 Five leading organizations in sustainability and integrated reporting, who published a shared vision for a comprehensive corporate reporting system earlier this year, have taken a next practical step together. Today, coinciding with the fifth anniversary of the Paris Agreement on 12 December, the group published a paper that addresses one part of this system: standards for reporting on enterprise value, brought to life with a prototype climate-related financial disclosure standard.
CDP, the Climate Disclosure Standards Board (CDSB), the Global Reporting Initiative (GRI), the International Integrated Reporting Council (IIRC) and the Sustainability Accounting Standards Board (SASB), have co-authored an illustration of how their current frameworks, standards and platforms, along with the elements set out by the Task Force on Climate-related Financial Disclosures (TCFD), can be used together to provide a "running start" for development of global standards that enable disclosure of how sustainability matters create or erode enterprise value.
The collaboration between these organizations comes at a pivotal moment when global stakeholders are recognizing the need for transparent measurement and disclosure of information about sustainability performance, as a fundamental part of effective business management. Since the group published a joint statement of intent in September 2020, the group of five wrote an open letter to Erik Thedéen, Chair of IOSCO's Sustainable Finance Task Force, to reiterate their shared commitment to contribute to the achievement of a globally accepted comprehensive corporate reporting system. The letter and response from Mr Thedéen also welcomed the consultation by the Trustees of the International Financial Reporting Standards (IFRS) Foundation about possible ways the Foundation might contribute to this development, by broadening its current remit beyond the development of financial reporting standards.
In light of these developments, the paper demonstrates that standard-setting for sustainability-related financial disclosure is a natural extension of the IFRS Foundation's current role, and provides insight into how such an ambition can be achieved by building on content that already exists. It also offers this content in the form of prototypes, so that it can serve as a running start for any standards development that the IFRS Foundation might choose to undertake.
In the paper, the group of five explain that enterprise value reporting – in other words, disclosure of how sustainability matters create or erode enterprise value – "is not therefore a replacement for sustainability reporting, which serves a broad range of stakeholders, can offer input to public policy design and reveals issues that may emerge as material for economic decision-making over time." They believe, however, that consistent communication of how sustainability matters affect drivers of enterprise value can be a "complementary enabler of change, since it creates a financial incentive for companies and their investors to improve performance on some sustainability matters as much and as quickly as they can".
Charles Tilley, CEO, IIRC comments: "This unified approach and illustrative prototype climate-related disclosure standard demonstrates that a global structure can be achieved to a rigour, and within a timeframe, that meets stakeholder demands. Standards for enterprise value creation connect relevant societal and environmental factors to core business and capital market decisions, accelerating progress towards long-term sustainable value creation. Our frameworks and standards are designed to be decision-useful and I look forward to the market's response to this collective global effort as a stepping stone towards comprehensive value creation and to bring future cohesion and simplicity to the corporate reporting system"
Eric Hespenheide, Chairman of GRI, said: "A new corporate reporting regime is needed in which financial and sustainability reporting is given equal footing. Achieving this will require strengthening the current financial standards to accurately consider the positive and negative implications of sustainability issues on a company's financial health, as well as acknowledging the crucial role of the private sector in addressing global challenges. The report launched today illustrates how this could be done. Furthermore, we believe that improved depth and quality of corporate reporting can only be realized when financial and sustainability reporting are both mandated. GRI's vision is of a sustainable future that is supported by global sustainability reporting standards, which inform all stakeholders – from investors through to civil society, policy makers, labor unions and others."
Download the joint paper (pdf)
About the collaborating organizations:
The International Integrated Reporting Council (IIRC) is a global coalition of regulators, investors, companies, standard setters, the accounting profession, academia and NGOs. The coalition promotes communication about value creation as the next step in the evolution of corporate reporting.
CDP is a global not-for profit that drives companies and governments to reduce their greenhouse gas emissions, safeguard water resources and protect forests.
The Climate Disclosure Standards Board (CDSB) was founded in 2007 and is an international consortium of business and environmental NGOs committed to advancing and aligning the global mainstream corporate reporting model to equate natural capital with financial capital.
The Global Reporting Initiative (GRI) is the independent international organization that helps businesses, governments and other organizations understand and communicate their impacts.
The Sustainability Accounting Standards Board (SASB) connects businesses and investors on the financial impacts of sustainability. SASB Standards enable businesses around the world to identify, manage, and communicate financially material sustainability information to investors.
The conversations between these organisations have been facilitated by the Impact Management Project (IMP), the World Economic Forum and Deloitte, who share a commitment to supporting progress towards comprehensive corporate reporting.