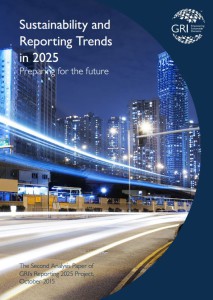 On October 8, 2015, the Global Reporting Initiative (GRI) published a second Analysis Paper resulting from its Reporting 2025 Project that is designed to promote an international discussion about the purpose of sustainability reporting and disclosures looking ahead to 2025.
As part of the project, thought leaders in various fields are interviewed on subjects ranging from data technology to society and business development scenarios, with the aim of identifying main issues that will – or should be – at the center of companies' agendas and their public reports. A first paper with the first nine interviews was published in June this year and a final report will be published in January 2016.
Review the full report on the GRI's Web Site.