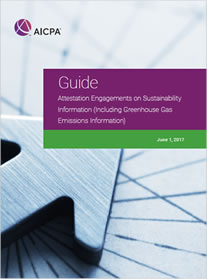 As interest from investors grows, the demand for information on companies' sustainability practices is expected to increase.
For example, in 2017 Exxon Mobil shareholders in a nonbinding resolution called for the energy company to disclose the impact that global climate change guidelines will have on its business — and New York State Attorney General Eric Schneiderman revealed an investigation into information the company provided investors about the risks global warming posed to its operations, according to published reports.
In this environment where sustainability reporting is becoming more common for businesses, opportunities for CPAs to provide assurance on such reports are growing.
CPAs who wish to perform such services can use the resources available in the new AICPA Guide Attestation Engagements on Sustainability Information (Including Greenhouse Gas Emissions Information), which is available at aicpastore.com. The guide supersedes AICPA Statement of Position 13-1, Attest Engagements on Greenhouse Gas Emissions Information. The content of that SOP has been updated for the clarified attestation standards and included in the guide.