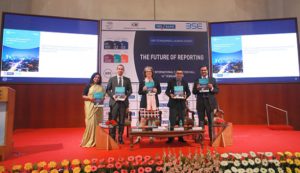 Companies based in India can now easily link GRI Standards and disclosures with the business responsibility reporting requirements set by the Securities & Exchange Board of India (SEBI). The guidance for linking GRI Standards to the SEBI Framework was published at the GRI Standards launch event in Mumbai.
GRI and the Bombay Stock Exchange (BSE), one of India's leading exchange groups, have released a linkage document between the GRI Standards and the SEBI Business Responsibility Report (BRR) Framework. The document is aimed at companies that wish to use the GRI Standards to comply with SEBI's reporting requirements, which have been mandatory for the top 500 Indian companies listed in the country's stock exchanges since 2015. The guidance was unveiled to reporters at the GRI Standards launch event in Mumbai, co-hosted by BSE.
GRI and BSE entered a formal MoU in 2016 to work collaboratively and support the Top 500 listed companies in establishing sustainability reporting processes and preparing sustainability reports by the end of 2017. Highlighting the connections between the two reporting frameworks, the linkage document demonstrates how the GRI Standards and disclosures relate to each requirement in the SEBI BRR Framework. "Our aim is that companies will be able to create a sustainability report based on the GRI Standards while complying with the SEBI BRR Framework, without duplicating effort," says GRI's Bastian Buck, Director Reporting Standards.
Harmonizing reporting guidance and frameworks enables more companies to report on their sustainability impacts in a comprehensive manner, increasing transparency and trust.
Collaboration to provide guidance and recognition
Since launching the GRI Standards in 2016, GRI has organized several free of charge events around the world to guide sustainability professionals through the new GRI Standards and the changes from the G4 Guidelines. Today's event in Mumbai was hosted by experts from GRI, BSE and SEBI, and attracted the interest of as many as150 attendees.
GRI works closely with stock exchanges and capital markets to help companies meet the growing demands of local and international stakeholders. As one of India's leading exchange groups, BSE has demonstrated sustainability leadership by being the first Asian stock exchange to join the Sustainable Stock Exchange Initiative. "We at BSE believe that sustainability of business is now a priority and not merely an option. The principles of giving back to society and conservation of resources for future generations are the key fundamentals that BSE supports," says BSE's Neeraj Kulshrestha, Chief Business Operations.
By engaging with GRI, BSE encourages and guides companies towards more sustainable business. "Companies listed at BSE are encouraged to adopt the best practices on disclosure of sustainability measures they follow. Widespread adoption of the GRI Sustainability Reporting Standards will be a leap forward towards not only complying with green initiatives but also opening avenues for profound positive effect on business," Kulshrestha concludes.
Please visit the GRI Resource Library to download your copy of Linking the GRI Standards and the SEBI BRR Framework.