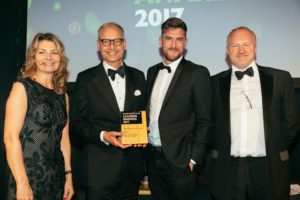 Last night over 400 executives, entrepreneurs, investors, campaigners, and politicians from across the green economy gathered in London for the seventh annual BusinessGreen Leaders Awards. The awards were more competitive than ever and provided a testament to the growing maturity and influence of sustainable businesses and clean technologies. Following a keynote address from former head of the UN climate change secretariat, Christiana Figueres, the awards ceremony got underway. The winner in the category  'Sustainability Report of the Year' is HEINEKEN International for it's 2016 Reporting Suite.
The judges were impressed by Heineken's attractive, engaging, and multi-channel report, which shone a new light on an already impressive corporate sustainability programme. By providing a full digital suite of reporting material and backing it up with an eye-catching stakeholder outreach program, the company ensured its green performance was seen by as wide an audience as possible.
Highly commended in this category: Formula E Operations.