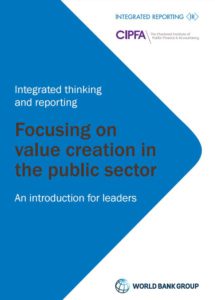 The International Integrated Reporting Council (IIRC) and the Chartered Institute of Public Finance and Accountancy (CIPFA) have today launched an introductory guide for leaders on integrated thinking and reporting – a model that is improving understanding of the services the public sector delivers and the value they create.
Focusing on Value Creation in the Public Sector, which has been developed with support from the World Bank's Governance Global Practice, provides guidance for public bodies around the globe to help them think holistically about their strategy and plans, make informed decisions and manage key risks, in order to build stakeholder confidence and improve future performance.
"We believe this report will help to improve decision making and illustrate how Integrated Reporting can be applied by public sector leaders so that they think more broadly about value creation in their organisation and make the best use of the often restricted resources they rely on," said Rob Whiteman, Chief Executive, CIPFA. "Integrated Reporting will enable them to think about the outcomes they are aiming for – not only in financial terms, but also in terms of society, the natural world, and human and intellectual capital."
Professor Mervyn King, Chairman of the IIRC Council, said, "Public sector organisations are increasingly challenged with maintaining or improving outcomes within the same or reducing resources. Communicating how, and how well prepared they are to achieve this is critical to public accountability."
Public sector leaders are looking for tools and frameworks to help them demonstrate effective resource allocation, and accountability – communicating not just for the sake of 'being transparent' – but to ensure all stakeholders understand how their organisation is creating value in the short, medium and long term.
Zinga Venner, Corporate Reporting and Analysis, World Bank Group, said: "Integrated Reporting provides us with the vehicle with which we can increase the visibility and transparency of how our organisations use their resources to create value over time. It also provides us with the ability to promote integrated thinking and management, and in so doing, change organisational behaviour and the manner in which resources are allocated, thereby leading to significantly improved outcomes, which not only benefit our organisations, but the world at large."
CIPFA, the IIRC and their partners will use Focusing on Value Creation in the Public Sector to ensure public sector leaders globally understand the value of adopting Integrated Reporting. This will be followed during 2017 by guidance that will further help public sector organizations to implement the International <IR> Framework.
Download the full report Focusing on Value Creation in the Public Sector here (pdf)