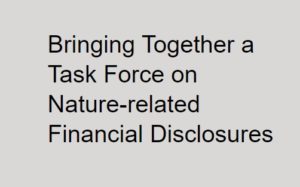 Efforts to establish a Task Force on Nature-related Financial Disclosures (TNFD) have today passed an important milestone with the announcement of an Informal Working Group (IWG) comprising some of the world's biggest banks, investors and companies, as well as governments and regulatory bodies.
The 62 members that make up the IWG are part of the initial planning phase of the TNFD, tasked with establishing a detailed work plan for the Task Force for when it launches in 2021.
A TNFD will build awareness and capacity to enable the financial sector to address the market and systemic failures contributing to the destruction of nature. Data gaps currently prevent financial institutions from assessing their nature-related risks, the IWG will be discussing how to bridge this gap, enabling global finance to shift from nature negative to nature positive.
At the Business of Finance Day at the Nature for Life Hub, Bérangère Abba, French Secretary of State, Ministry for Ecological Transition, announced the IWG and its commitments to the creation of a Task Force and an international reporting standard that is critical for halting biodiversity and ecosystem loss.
Bérangère Abba said: "Biodiversity finance is the new frontier of green finance. Nature requires as much ambition and collective effort as it has been done for climate so far, and the private sector can play a crucial part in redirecting financial flows. We are convinced that the work of the Task-force on Nature-related Financial Disclosures, or "TNFD", will accelerate the understanding of these issues and will ultimately lead to both a reduction in financial flows and economic activities that are harmful to biodiversity and a massive redirection of flows towards activities that are favourable to biodiversity."
Madeleine Ronquest, Head Environmental, Social and Climate Risk at FirstRand Group Enterprise Risk Management (South Africa), said: "The launch of the Informal Working Group (IWG) for the TNFD is a significant step towards the goal of moving the global financial system from nature negative to nature positive.  I look forward to working with the IWG members to shape and implement the Task Force that will help to make this transition possible."
"Loss of nature is increasingly impacting business performance. Consumers, stakeholders and governments expect business to take actions which halt the loss of nature. WBCSD supports the launch of the TNFD which will help companies consistently and credibly assess, address and report their impacts and dependencies on nature", added Diane Holdorf, Managing Director & Senior Management Team, World Business Council for Sustainable Development.
The IWG will meet on a monthly basis and will be supported by a Technical Expert Group (TEG), which is currently in the final stages of formation. The TEG will serve at the direction of the IWG and support the working group in articulating the scope and objectives for the TNFD; the group will be made up of individuals with representative expertise and overview of relevant sources for biodiversity data and tools for assessing nature-related investment risk.