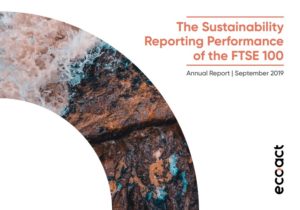 EcoAct has published its climate change business leaderboard for the UK, ranking FTSE 100 companies on sustainability performance reporting and announcing the top 20 for outstanding efforts. However, overall the report makes for sobering reading with a clear message that UK businesses are not going far enough in implementing critical steps to limit carbon emissions.
With the Intergovernmental Panel on Climate Change (IPCC) reporting less than a 12-year window to limit global warming to 1.5°C, and the UK government's recent net zero emissions law requiring the country to bring all greenhouse gas emissions to net zero by 2050, it is critical that the commercial sector urgently transforms their operations. EcoAct's report discloses that while 81% of the FTSE 100 companies have some sort of emissions reduction target, 85% currently do not have a sufficient emissions reduction strategy in place to limit global warming to safe levels. The report also reveals that only 8% of FTSE 100 companies have attained carbon neutrality, with only a further 10% making the commitment to do so, highlighting the enormous performance gap needed to be filled in a short space of time.
"What has become crystal clear over the last year is that the climate emergency is no longer a distant concept", said Stuart Lemmon, Managing Director, EcoAct. "In our 9th year of examining climate performance of the UK's largest companies, while we have seen progress, change is simply not happening fast enough. It is now imperative that companies urgently step up to their responsibilities to drastically reduce carbon output."
Scores for the FTSE 100 companies – which make up the rankings in the report – range from 1% at their lowest to 87% at their best, demonstrating a highly disparate mix of sustainability performance and indicating that adequate sustainability reporting is still not a given in large companies.
Undertaking the same sustainability research across the CAC 40, IBEX 35 and the DOW 30, EcoAct's FTSE report suggests that the UK is lagging behind some other economies – for example in alignment or commitment to the Task Force on Climate-related Financial Disclosures (TCFD) – and advising that there is much work to do for the UK to meet its ambitious new role of "international leader" on climate action.
Looking at the sectors and specific FTSE 100 companies that made the top 20, it was evident that companies representing the food and beverage, FMCG and retailing sectors – or associated with them – dominated the rankings. Unilever claimed the number 1 position in both the UK report and when considering overall rankings across the CAC 40, IBEX 35 and the DOW 30. Marks & Spencer took 2nd position, followed by Tesco at number 4 and Mondi, the packaging major, at joint 5th place with the Coca Cola Hellenic Bottling Company.
Also of note in the report was BT's ranking at number 3 and the high performance of not one, but four energy, water and utility companies, including National Grid, Centrica, SSE and United Utilities at positions 8, 9, 12 and 17 respectively. Additionally, the first fossil fuels company entered the top 10, with Royal Dutch Shell placed at joint 9th position, having moved from 31st  position only a year ago. Banking also ranked as performing well, with three banks – RBS, HSBC and Barclays – taking 15th, 16th and 19th positions respectively.
The number of consumer-focused companies in the top 20 indicates a growing realisation by these industry sectors of increased climate awareness among the general public and the mounting demand for action. Pressure from the investor community is increasingly a driver for companies to act in order to safeguard future interests from the long-term impacts of climate change.
In addressing an area that has been the focus of some recent controversy, EcoAct's report also shows that the number of FTSE companies purchasing carbon offsets has doubled – from 12% to 27% in the past year – indicating a growing awareness of the need to reduce carbon footprints in absence of 100% carbon neutral solutions.
"Carbon offsetting absolutely has a place as part of a carefully considered carbon emissions reduction plan where a company is unable to reduce certain operational emissions", said Lemmon. "As an internationally-recognised market mechanism to help achieve carbon neutrality, carbon offsetting can play a significant role when not all emissions can be reduced in the short-term. Providing they are well-conceived and rigorously verified, offsetting projects can help deliver the promised carbon reductions whilst improving lives and supporting sustainable development."