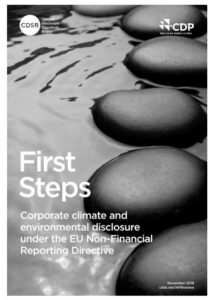 Only 44% of the largest European companies explain in their management reports how their business models are affected by climate change or environmental challenges, a new review of company reporting under the EU's flagship environmental reporting law has found.
'First Steps', published by environmental non-profits the Climate Disclosure Standards Board (CDSB) and CDP, analyses the annual reports of the 80 biggest publicly listed companies in Europe.
It is based on five reporting demands in the Non-Financial Reporting (NFR) Directive, the EU's key legislation obliging companies to report their management of social and environmental matters.
Compared to the generally fuller environmental data reported separately to CDP's disclosure platform, the review finds low uptake of the directive's new requirements in companies' annual reports, along with reporting inconsistencies that make it more challenging for investors, concerned about environmental risks, to compare information.
Three in four company reports include a business model description that falls short of EU guidelines and fewer than one in four include a clear statement that climate or environment is part of their overall due diligence processes.
French companies lead (57%) on referencing to climate or environmental issues in their business models.
The review also reveals a large gap between companies' stated risks and the actions to address them. With the NFR Directive asking for information on environmental risks, 79% of company reports identify at least one climate or environmental risk. But 80% do not prepare a specific climate change strategy to mitigate these risks.
Only 41% of company reports disclose transition risks, such as future regulation and policy changes, which are likely to have material business impacts.   
Where such reporting was mandatory before the NFR Directive, like the UK and France, companies seem to perform better.
All French and UK company reports include current emissions, compared to just 56% in Germany and 81% EU-wide. 41% of annual reports include targets to reduce emissions.
Mardi Mcbrien, Managing Director, Climate Disclosure Standards Board said:
"Climate and environmental information is material for an understanding of these large businesses and must be presented to investors in a consistent and comparable way. The way to help companies achieve this is to clarify and strengthen the NFR Directive by specifying its requirements."
The review also analyzes how far current reporting practices align with the recommendations of the G20 Financial Stability Board's Task Force on Climate-related Financial Disclosures (TCFD), which represents a new best practice in climate change reporting and is endorsed by the European Commission.
30 companies (38%) in the sample reference the TCFD in their annual report, showing implementation is already underway. But while 60% of companies disclose that responsibility for environmental issues sits with a board member, only 15% mention climate change specifically, which is a key TCFD recommendation. The UK (31%) and France (21%) again are the leaders, while some firms now link environmental or climate targets to management remuneration.
"To scale up the adoption of the TCFD at the pace and quality needed to bring a realistic picture of climate-related financial risk to the market, mandatory implementation of the 11 recommended disclosures is needed", says Mardi Mcbrien. "While we have seen progress by companies on such disclosures, all companies need to discuss the impact of climate change on their business, as outlined by the TCFD recommendations. Aligning these recommendations with the Non-Financial Reporting Directive presents an opportunity to streamline the EU corporate reporting landscape."
Launched today in Brussels, the review is released to provide EU institutions with evidence to understand the role of the NFR Directive in shaping the European reporting landscape. The main analysis focused on the top 80 companies in Europe, from 12 countries, representing $3.7 trillion in market capitalization. A further high-level analysis of disclosures by the top 500 by market capitalization is also included.
A review of the NFR Directive by mid-2019 is a part of the European Commission Action Plan: Financing Sustainable Growth, which offers an opportunity to provide the upcoming Parliament and Commission with a recommendation to review the Directive. The Commission has noted that 50% of the exposure of Euro area banks to risk is either directly or indirectly related to climate change related risks.
There is overwhelming evidence that the inclusion of environmental and climate change information within management reports is a key part of the structure that will enable investors to make informed capital allocations. The CDSB Framework is currently being used globally by companies with a Market Capitalization of $5.2tn and helps organizations report climate change and natural capital information via their mainstream report, the vehicle identified by the TCFD.