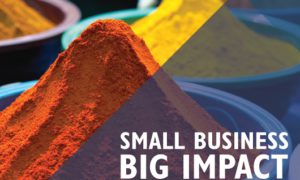 Sustainability reporting by large and multinational companies has become commonplace over the last decade, however among small and medium enterprises (SMEs), the practice of sustainability reporting is not as widespread. GRI and the International Organisation of Employers (IoE), have released a publication to inspire SMEs to take action and establish their role in a more sustainable future by reporting on their main sustainability impacts.
SMEs play a crucial role in driving economies
Worldwide, SMEs account for approximately 90% of businesses and therefore play a crucial role, particularly in developing countries, acting as key engines of job creation and economic growth. Statistics from The World Bank indicate that SMEs contribute up to 45% of total employment and up to 33% of national income (GDP) in emerging economies.
However, sustainability is not yet deeply entrenched in the majority of these businesses. In 2015, SMEs accounted for just 10% of the total number of sustainability reports captured in the GRI Sustainability Disclosure Database, with 90% coming from large and multinational organizations. Yet sustainability reporting is vital for both small and large organizations alike.
By reporting on their sustainability impacts, SMEs can improve risk management, foster responsible business practices and unlock new opportunities in global markets. Being responsible for creating four out of five new jobs in emerging markets, the sustainable growth of SMEs is vitally important for the development of future economies.
Embarking on the reporting journey
Recent global initiatives such as the UN Sustainable Development Goals are acting as catalysts to ignite SME reporting. GRI Sustainability Reporting Standards enable this reporting, helping organizations to understand and communicate their sustainability impacts and performance, and ultimately contribute to a more sustainable future.
The publication,
Small Business, Big Impact: SME Sustainability Reporting from Vision to Action
, has been created as part of the collaboration between GRI and the IOE to support SMEs in their reporting efforts.
Download the publication
to find out how your organization can get started on its journey towards a more sustainable future.