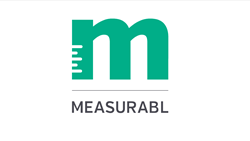 Measurabl, the start-up for sustainability data management, reporting, and energy efficiency is delivering unrestricted access to its enterprise suite of sustainability reporting tools for the Global Real Estate Sustainability Benchmark (GRESB) and the Carbon Disclosure Project (CDP) at no cost. More than 10,000 companies report their environmental, governance, and social data to the two sustainability reporting standards annually, spending millions of man-hours and tens of millions of dollars on compliance costs.
"Measurabl's mission is to make it possible for any company to accurately, easily, and cost effectively disclose their sustainability performance" explains Matt Ellis, Measurabl's Founder and CEO. "Making GRESB and CDP reporting free is fundamental to that mission. It means thousands of companies won't have to look at sustainability as a cost center out of the gate."
The announcement comes at a time of increasing visibility for Measurabl. It was named the #1 Cleantech start-up in the world by the Global Cleantech Cluster Association in 2014, and one of Xconomy's Hottest Tech Start-ups in 2015 after recording a blistering pace of adoption by the commercial real estate industry. Measurabl now has more than 640 subscribers including successful software start-ups like Optoro, the consumer products recycling company, VMware, a cloud computing company, and CBRE Global Investors, one of the world's largest real estate asset managers.
Josh Henretig, Microsoft's Senior Director of Energy, Environment and Cities understands the pain that sustainability reporting requirements place on companies. "The burden is enormous, not just to compile the energy, water, and travel data from global operations, but to quality assure it so accurate information gets to investors and stakeholders." Henretig says he joined Measurabl's Board because he believes that "in order to democratize sustainability, we need user-friendly tools to that help organizations collect, report and act on data, and Measurabl's mission and software solution squarely focused on that opportunity."
Investors and regulators now assess the energy and environment-related impacts of large and medium-sized companies when weighing investment. Recently, the Paris Climate Accord set out expansive new goals for nations to reduce carbon emissions. At the same time, new light has been cast on corporate environmental malfeasance after the Volkswagen emissions tampering scandal.
"Collection and disclosure of non-financial data is an essential business process" notes Ellis. "The only question now is how to make this process simple and accurate enough so companies of any size can stay ahead of their investor and regulatory requirements."
About Measurabl
Measurabl is sustainability, solved. Our automatic data import technology and guided, step-by-step reporting process helps companies complete sustainability reports, collect utility data, benchmark, and improve performance.