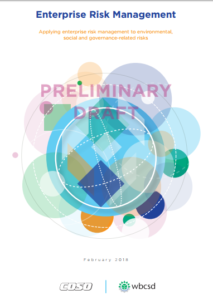 Yesterday at GreenBiz 2018, the Committee of Sponsoring Organizations of the Treadway Commission (COSO) and the World Business Council for Sustainable Development (WBCSD) released draft Guidance for applying Enterprise Risk Management (ERM) to Environmental, Social and Governance (ESG)-related risks.  ​
The existing COSO framework, Enterprise Risk Management — Integrating with Strategy and Performance, is one of the most widely recognized and applied risk management frameworks in the world. Its goal is to help organizations create, preserve, sustain and realize value while improving their approach to managing risk.
The supplemental draft Guidance released yesterday is designed to help organizations worldwide respond to the increasing prevalence and severity of ESG-related risks, ranging from extreme weather events to product safety recalls.
"When companies have a better grasp on their risks, they can make better business decisions. With this work, we're going to help drive positive change in corporate governance," said Peter Bakker, President and CEO at WBCSD. "Better regulation will take time, but the work we're doing with COSO that embraces the COSO risk management framework is something that can have a massive impact."​
Highlights of the draft Guidance include:
Methods to overcome ESG-related risk challenges, including identifying and assessing the severity of risks with uncertain financial consequences
Innovative responses for addressing ESG-related risks and seizing opportunities
"As ESG-related risks are becoming more widespread, organizations need to ensure they have processes in place for identifying, assessing and managing these complex entity-level risks and opportunities. We believe ERM is the most powerful way to achieve this," said new COSO Chairman Paul Sobel. "As with any group of risks, integrating ESG-related risks into ERM enables organizations to realize long-term value."
The draft Executive Summary and Guidance can be downloaded here (pdf).  COSO and WBCSD will be seeking public comment on both through 30 June 2018 to ensure that the business and regulatory community are represented in the final version. Further details will be available on the COSO website.
This project is funded by the Gordon and Betty Moore Foundation.