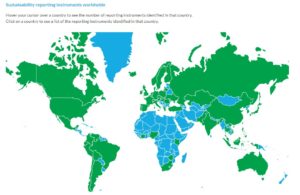 Two leading initiatives providing resources to help audiences understand the environmental, social and governance (ESG) disclosure landscape – Carrots & Sticks and the Reporting Exchange – have collaborated to improve access to reliable and comparable information by aligning taxonomies.
Carrots & Sticks – from the Global Reporting Initiative (GRI), UN Environment Programme and the University of Stellenbosch Business School (USB) – is the flagship report and online resource for policymakers on sustainability reporting instruments, regulation, guidance and frameworks. The Reporting Exchange – built by the World Business Council for Sustainable Development (WBCSD) in partnership with CDSB and Ecodesk – is a global resource for ESG reporting, helping companies to understand what, where and how to report sustainability information.
Jointly, the newly aligned Carrots & Sticks and Reporting Exchange systems give public and private sector users an overview of hundreds of reporting provisions covering the world's 70 largest economies. This includes mandatory and voluntary requirements and guidance from regulators, capital markets, professional associations, industry bodies and other organizations. By providing this information, the two initiatives are driving the development of effective ESG reporting, strengthening both business and investor decision-making.
To help policy actors and companies get the most out of these databases, the two initiatives have aligned taxonomy and terminology so content is consistently categorized and easier to access. The new alignments will be reflected in the next Carrots & Sticks publication coming out in the spring.
Peter Paul van de Wijs, GRI's Chief External Affairs Officer said: "I'm pleased that the information captured by Carrots & Sticks and Reporting Exchange has been made more consistent and comparable. This will help users access the information they need, which ultimately will inform better policy and underpin more effective sustainability reporting."
Andy Beanland, Director, Redefining Value at WBCSD, said: "We're delighted to collaborate with the Carrots & Sticks partners to align the information across our respective reporting data sources. This will reduce market confusion and ensure that we provide comparable information to businesses, policymakers and investors alike supporting the achievement of Sustainable Development Goal (SDG) 12.6."
Cornis van der Lugt, Senior Lecturer Extraordinaire at the University of Stellenbosch Business School, said:  "Building on fifteen years of research, our aligned databases will facilitate ongoing assessment of the materiality of different topics, including trends in addressing different aspects of, for example, Sustainable Development Goals, different capitals or resources, and main areas of the economy, environment, social and governance agenda."