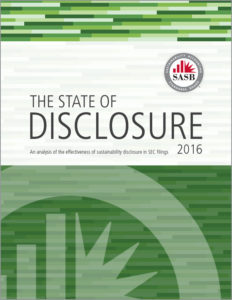 Investors are increasingly looking beyond financial statements for a more complete picture of how companies create long-term value. Although businesses have begun to address material sustainability factors in their SEC filings, the quality of these disclosures is lacking, which inhibits investors from fully understanding their risk exposures. To help investors better understand this risk exposure, the Sustainability Accounting Standards Board (SASB) today published its first annual State of Disclosure Report, a reference document that provides an overview of the quality of existing corporate disclosure across 79 industries.
"In this inaugural report, SASB presents a review and analysis of current sustainability disclosures included in hundreds of SEC filings across every major industry. The findings serve as both a reason for optimism and a reminder that much work remains to be done," writes Alan Beller, former director of the Division of Corporation Finance, U.S. Securities and Exchange Commission, in the foreword to the Report. "Although companies appear to have increasingly recognized the risks and opportunities involved in managing material sustainability issues, they have also struggled to communicate them effectively to their investors."
The report shows 81 percent of all disclosures analyzed across all SASB disclosure topics indicate some level of disclosure in SEC filings, which indicates companies acknowledge these topics materially impact their business. However, more than 53 percent use boilerplate language and less than 24 percent of these disclosures contain metrics – demonstrating that many companies take a minimally compliant approach to sustainability disclosure. Companies must improve the quality of these disclosure to improve their usefulness in investment decision-making.
For the first time, SASB has also ranked the state of disclosure for all 79 SICS™ industries, because understanding which industries apply more rigor to measuring and managing their critical sustainability factors can provide important cues for investors. The top five industries, in terms of the overall effectiveness of their sustainability disclosures, are Education, Car Rental & Leasing, Cruise Lines, Gas Utilities, and Tobacco.
"This report serves as an important baseline for disclosure effectiveness, which we will use to track progress and key trends over time," says Dr. Jean Rogers, SASB founder and CEO. "We hope this report serves as a resource as the market collectively works toward providing investors with more decision-useful information."
To read the report, visit the SASB Library. To analyze corporate disclosure quality for 4,300+ public filings, visit the SASB Navigator.