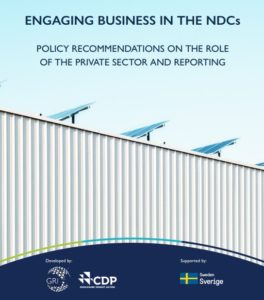 Policy makers and businesses need to work closer together to ramp up private sector engagement in the climate change commitments made under the Paris Agreement. Nationally Determined Contributions (NDCs) set out the efforts by individual countries to cut emissions and adapt to the impacts of climate change. GRI and CDP have compiled recommendations for both governments and the private sector, to support businesses in understanding, reporting and managing their contribution.
The Engaging business in the NDCs publication gives an analysis of corporate reporting practices through the first round of NDCs, including examples of good practice. It recommends that:
Policy makers include clear targets for the contribution by business, setting up efficient and transparent monitoring and doing more to encourage private sector engagement.
Companies align operations and objectives to the national targets, taking advantage of opportunities to support the NDCs through investments and changes to their operations.
This timely report is published as a review takes place in New York of the UN Sustainable Development Goals (SDGs). This will be followed by the UN Climate Action Summit in September, prior to countries submitting their next round of NDCs in 2020.
Peter Paul van de Wijs, GRI's Chief External Affairs Officer, said:
"To meet the challenging goals in the Paris Agreement, governments alone cannot achieve the changes required. Businesses also have a crucial role, which is why we need clarity on each other's contribution.
As demonstrated by the UN forum this week – which includes reviewing the SDG for urgent action to combat climate change – international momentum is increasing.  So, it's clear that robust monitoring and reporting by countries of their NDCs progress, including private sector contributions, is a necessity.
Around the world, we are seeing great examples of businesses collaborating in the NDCs and we need this good practice to grow. Our briefing paper will help policy makers and companies focus on where they can do more to work together at the national level, playing their part in securing a global solution."