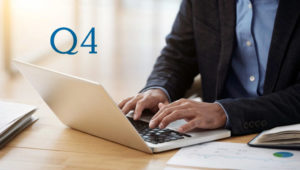 Q4 Inc. (Q4), a leading capital markets communications platform, announced the first phase of new products that standardize how public companies can deliver information regarding their environmental, social and governance (ESG) efforts.
At a time of extensive data collection, heightened investor emphasis and mounting regulatory mandates around ESG disclosure, public companies are challenged with what and how best to communicate their social impact and sustainability programs. Similarly investors are taxed with distilling the vast amount of ESG-related information relevant to their investment criteria. In its fundamental commitment to ESG, both as an organization and on behalf of its clients, Q4 has introduced the first of several new offerings that enable public companies to effectively tell their ESG story in a format that makes it easier for investors to consume.
Working in tandem with its leading clients, Q4 has established a set of best practice, industry- focused templates for corporate websites and virtual ESG investor days. The Q4 ESG website offerings include both a singular page, as well as a four-page template. These can be directly integrated into existing investor relations and Corporate websites, or exist as a standalone destination to proactively engage investors with the company's social impact policies and initiatives.
In addition to ESG websites, Q4 has combined its market-leading technology and premium virtual event expertise to support public companies in delivering compelling virtual investor events focused on ESG. Leveraging the insights and best practices of event experts that deliver over 4,000 events annually, Q4 is enabling companies to deliver their ESG story to investors utilizing video streaming, multimedia and branded consoles.
"Fully embracing how critical ESG is for all stakeholders, Q4 is excited to streamline and standardize the wide array of disparate information that is being collected, and report it back to the market in a clear and consumable way", said Darrell Heaps, CEO of Q4. "We are eager to remove the uncertainties surrounding how and what to communicate, by establishing templates that reflect the most relevant ESG components of each public company. Ultimately we believe this will make it easier for investors to find, assess and compare this information across assets, while helping issuers attract the right investors."
Looking ahead, Q4 plans to launch additional innovative ESG solutions to this suite of products over the coming quarters, with the goal of further enriching this communications channel between public companies and the capital markets.
About Q4 Inc.
Q4 Inc. (Q4) is a leading capital markets communications platform provider that is transforming the way publicly traded companies, investors, and investment banks make decisions to efficiently discover, communicate, and engage with each other. The Q4 end-to-end technology platform facilitates interactions across the capital markets through its IR website products, virtual events solutions, capital markets customer relationship management solution, and shareholder and market analytics tools. The firm is a trusted partner to over 2,400 public companies including 50% of the S&P 500. Q4 is based in Toronto, with offices in New York and London.