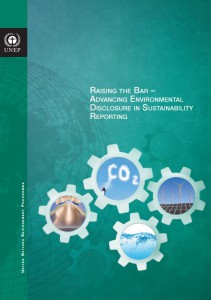 Companies are failing to accurately reflect the scale and extent of their environmental impacts, a new report from the United Nations Environment Programme (UNEP) has found. In the case of greenhouse gas emissions, only 9 out of 108 (8 per cent) surveyed companies have established reduction targets in accordance with the science-based target of limiting global warming to 2 degrees Celsius – the central goal of the upcoming United Nations Climate Change Conference (COP21) in Paris, December 2015. Launched today at the Reporting 3.0 Conference in Berlin, Germany, the report, Raising the Bar – Advancing Environmental Disclosure in Sustainability Reporting, calls on companies to do more to address the environmental and social impacts of their operations, as required in the 2030 Agenda for Sustainable Development.
UNEP's analysis of 108 company sustainability reports found that they typically disclose data on four key areas:
Greenhouse Gas Emissions (reported by 95 per cent of surveyed companies);
Energy (83 per cent);
Water (81 per cent);
Materials/Waste (75 per cent).
However, the quality of these reports is insufficient to represent the full impacts of a company's use of resources and materials on the environment and on communities. Such information would improve corporate decision-making and add value to businesses in the short and long terms.
"Corporate sustainability reporting needs to be rapidly elevated from focusing on incremental, isolated improvements to corporate environmental impacts," said Arab Hoballah, Chief of UNEP's Sustainable Cities and Lifestyles Branch. "It should instead serve to catalyze business operations along value chains to achieve the kind of transformative change necessary to accomplish the Sustainable Development Goals and objectives by 2030. This is precisely what is needed to encourage countries and companies to act effectively at their respective levels."
The report urges more action and accountability, especially when addressing water and resources use, which may also unlock other possible emissions sources in value chains. It also calls for companies to set sustainability goals based on science-based targets.
According to the report, the key challenges in quality sustainability reporting are:
The need for harmonizing and strengthening of materiality determination, and assurance methodologies.
The need for greater collaborative reporting, through more engagement with upstream value chains (e.g. suppliers) and downstream stakeholders, to transform sustainability reporting from the current one-way, broadcast-type format to a more multi-directional, dynamic, ongoing exchange with all relevant stakeholders.
An alarming under-use of the sustainability context principle – placing performance of a company in the context of the limits and demands on environmental or social resources.
Brigitte Burnett, Head of Sustainability at Nedbank, one of the companies surveyed in the research, said: "Nedbank's Fair Share 2030 strategy – and how we report on it – considers the impact of our lending practices within the broader socio-economic and environmental operating context. We believe this approach aligns with Global Reporting Initiative's (GRI) Sustainability Context Principle, as spotlighted in UNEP's Raising the Bar report.
"We find that a context-based approach to strategy development greatly enhances our ability to identify innovative funding opportunities and new markets. Through this, we are able to align the interests of our business with our clients and society at large, thereby helping to create a thriving future for all."
The report also identifies four key stakeholder constituencies with the largest influence over the quality of sustainability reporting:
Long-term investors;
Stock exchanges;
Governments;
Companies collaborating with their value chains.
"Investors rely on robust, accurate, contextualized and comparable information on company sustainability performance," said Ole Buhl, Head of Environment, Social & Governance at Arbejdsmarkedets Tillægspension (ATP). "The UNEP Raising the Bar report demonstrates the distance still needed to travel before sustainability reporting fits the bill on all these fronts.
"Investors have a wide diversity of disclosure needs to inform their decisions that are currently met only sporadically, so we are eager for reporting that more consistently and comprehensively meets investor and stakeholder needs."
Civil society and non-governmental organizations , although not part of the research, are recognized as those stakeholders who can strongly influence the quality of corporate-level sustainability reporting.
Gine Zwart, Senior Policy Advisor at Oxfam Novib, said, "This report shows the importance of raising the bar on corporate sustainability reporting. It is in the best interests of companies to make these reports meet high standards of consistent quality that cover material issues core to the business and its stakeholders.
"For organizations like Oxfam, this is also an essential requirement to come to collaboration between companies and civil society organization to reach the sustainable outcomes we all want to see."