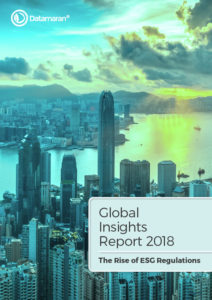 Regulators are taking a tougher stance on ESG disclosure, a new report by Datamaran – the leading solution for non-financial risk management – reveals.
In the last three years alone Environmental, Social and Governance (ESG)-related regulations – grew by over 100 percent across the United Kingdom (UK), The United States of America (US), and Canada, indicating that ESG regulatory landscape is evolving fast. For some sectors, such as Utilities and Healthcare and Pharmaceuticals, the majority of sector-specific regulations published after 2015 are mandatory. The sharp rise in ESG regulations together with a tougher hand from policymakers are sending strong signals to businesses – ESG issues require mainstream attention.
Datamaran CEO and Co-Founder Marjella Alma explains further: "Business needs to be aware of emerging ESG regulations. The tougher stance taken by regulators means that companies who are not integrating ESG issues into their strategy and their risk analysis will have a harder time navigating the complex and evolving regulatory landscape. The message is clear, non-financial issues are a "must have, not a nice to have".
Focusing on Healthcare and Pharmaceuticals, Utility and Financial Services sectors in the US, UK and Canada, Datamaran's Global Insights Report 2018 analyzes international, regional and national mandatory regulations and voluntary initiatives published between 2012 and 2018.
The report found that sector free regulations grew by 158% in the UK (from 31 to 80 regulations), by 145% in the US (from 29 to 71 regulations) and Canada (from 22 to 54 regulations). Social and Environmental topics are becoming more prominent in these recent regulations. The most regulated topics are Energy Use in the US Utilities, Product and Service Safety across all regions in Healthcare and Pharmaceuticals, and Business Ethics in the Financial Services across all countries. There has also been growth in regulation on Climate Change in the Financial Services Sector and Consumer Rights in the US Utilities Sector.
Commenting on the findings, Chairman of The Committee of Sponsoring Organizations of the Treadway Commission (COSO) and Vice President and Chief Risk Officer at Georgia-Pacific LLC, Paul Sobel said: "Business has to think beyond the one and two year perspective to a much longer term as it evaluates the potential impacts of ESG risks. These risks are mainstream and they have to be part of the overall risk assessment and monitoring."
Echoing Sobel's perspective Executive Director, Corporate Responsibility at MSD Brenda D. Colatrella said: "We, at MSD*, observe this trend too and acknowledge the role that effective management of ESG issues can play in managing risks, reducing costs, and serving as a key differentiator in competitive markets. In fact, the number of inquiries from external stakeholders related to ESG issues increased about five-fold at MSD in 2016, and we anticipate that the uptick in inquiries about ESG issues will only continue."
Datamaran's Global Insights Report 2018 is available here.