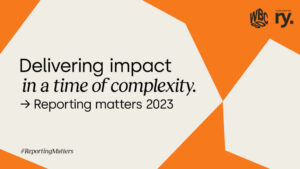 Reporting matters, the acclaimed initiative dedicated to advancing corporate sustainability reporting, is proud to announce the release of its highly anticipated 2023 edition. This year's annual review of WBCSD's member companies' sustainability and integrated reports in partnership with Radley Yeldar (RY) is titled "Delivering Impact in a Time of Complexity". Marking the eleventh installment of Reporting matters, this edition introduces an evolved evaluation framework designed to guide companies in an era of rapidly evolving reporting regulations and increased stakeholder expectations.
Over the past decade, Reporting matters has been at the forefront of promoting transparent and comprehensive reporting on environmental, social, and governance (ESG) impact. The 2023 edition reflects the significant strides made by companies in enhancing the quality, quantity, and accessibility of their sustainability reports. Notably, reports are becoming more comprehensive, user-friendly, and data-driven, showcasing a commitment to transparency and accountability.
However, amidst this progress, critical questions persist: Does the proliferation of information truly translate into positive impact? Are more accessible reports driving meaningful actions? Or are companies primarily preoccupied with navigating the ever-changing landscape of reporting regulations?
To address these pressing concerns, Reporting matters 2023 introduces an updated evaluation framework. This framework places a stronger emphasis on the actual impact of business activities rather than mere compliance. It acknowledges the challenges companies face in staying ahead of reporting requirements and provides guidance on navigating uncertainty while delivering tangible impact.
The new framework takes into account the latest sustainability reporting developments led by global standard-setting bodies and government agencies such as ISSB, EFRAG, and SEC. It aims to strike a balance between compliance-driven reporting and the need to maximize the value of reporting to drive rapid positive change.
"Two finalized standards at global and European level. One pending in the US. Double materiality, assurance, new disclosures. Increased scrutiny. It's a lot. Companies across the globe are grappling with this accelerated evolution, and it's not surprising as they come hot on the heals of waves of changes in recent years. The evolved Reporting matters framework provides guidance on navigating complexity while delivering tangible impact. Once again companies can trust in Reporting matters to provide the practical guidance they need." – Jennifer Black, Sustainability Reporting Director, Radley Yeldar
"With the renewed framework, we are helping to create the building blocks of change to accelerate the system transformations that are needed for a net-zero, nature-positive and equitable future." – Peter Bakker, President & CEO, WBCSD
Key highlights of Reporting matters 2023 include:
The state of materiality assessment. 55% of the reviewed reports disclose to some extent their approach to double materiality, an indication of companies starting to respond to CSRD requirements. Moreover, 42% engage their board or senior management in validating the outcomes of their materiality assessment.
Uptake of TCFD and SASB. Compared to 2020, there has been an increase of 26% in the number of companies referencing the Taskforce for Climate-related Financial Disclosures (TCFD). In addition, the number of companies referencing the Sustainability Accounting Standards Board (SASB) has doubled since 2020, going from 28% to 56% in 2023
Uptake of TNFD. As reporting on nature-related issues gains momentum, we've started tracking the percentage of reviewed reports that reference the Taskforce for Nature-related Financial Disclosures (TNFD). Our data indicates that 22% of our members companies within the review sample reference TNFD. We expect this number to increase over the coming years.
The state of external assurance. The vast majority of the reviewed reports include external assurance (94%), with a slight increase in the number of companies compared to the previous year with a reasonable level of assurance (7% in 2023, compared to 6% in 2022).
The state of integrated reporting. 37% of the reviewed reports combine financial and non-financial information, slightly down from 41% in 2020; 20% are self-declared integrated reports.
Accountability and leadership. 68% of the reviewed reports include disclosures on sustainability performance being linked to the remuneration of the highest governing body, while 16% report on the extent to which such highest governing body receives regular training and has relevant expertise in sustainability matters.
Top Performers:
As Reporting matters 2023 celebrates its eleventh year of recognizing excellence in corporate sustainability reporting, we proudly highlight the exceptional efforts and dedication of the following top performers (listed above in alphabetical order). These companies have demonstrated remarkable commitment to transparent and impactful reporting, setting the standard for sustainability reporting in an era defined by complexity and rapidly evolving expectations.
Now is the time for companies to raise the bar in sustainability disclosures. Decision-useful and forward-looking information is crucial for informed investment decisions and sustainable business practices. Reporting matters 2023 encourages companies to view sustainability reporting as an ongoing journey that drives year-on-year improvements and delivers value throughout the organization and beyond.
Download the full report (pdf)