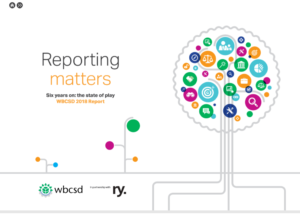 The World Business Council for Sustainable Development (WBCSD) and Radley Yeldar released the sixth edition of Reporting matters – WBCSD's annual review of member companies' sustainability and integrated reports.
Spanning 158 leading companies from 17 supersectors and 31 countries, this year's research points to positive progress in corporate reporting and disclosure as well as a continued movement towards digital reporting.
Despite progress, however, companies still face increased pressure to link sustainability reporting to internal decision-making and performance, the study found.
Water, human rights, climate change and the Sustainable Development Goals
To address the challenge, this year's Reporting matters aims to show how companies are linking reporting and decision-making through three topic-specific addendum reports focused on climate change, water and human rights. The deep dives center on the evolving regulatory and reporting context and explore the underlying processes companies use to address these three key issues. Each is backed up by member case studies which show the links between reporting performance and impact.
This year's Reporting matters also offers an overall SDG score on the dashboard, accompanied by an expanded SDG section of the report, which includes updates on how companies are reporting against them.
"Corporate reporting is meant to demonstrate a company's performance and to explain the processes and activities in place to address material issues and create value over time," said Peter Bakker, President and CEO of WBCSD. "This year's deep dive reports mark the next steps in our Reporting matters journey, as we move beyond assessing disclosure to understanding how it links to improved business decision-making and tangible positive impact."
"Reporting matters has been a driving force behind more robust and engaging reporting that meets the needs of the various stakeholders. But, transparency isn't enough. We must find a way to use this foundation to drive measurable change against issues like climate change, water and human rights.", said Ashleigh Gay, Senior Sustainability Consultant at Radley Yeldar.
Key findings from Reporting matters 2018
The main Reporting matters publication continues to provide good-practice examples as well as general trends and benchmarks over the past five years. This is particularly useful to business because insights can be shared across sectors for collective improvement.
Highlights include:
Reporting is improving
82% of member companies in our benchmark have improved their overall scores since baseline year 2014; 37% have improved their materiality score in this timespan.
The state of SDG reporting
89% of reports reviewed acknowledge the Sustainable Development Goals (SDGs) in some way; 53% map their sustainability strategy to relevant SDGs and provide some evidence of activities.
The state of integrated reporting
33% of reports reviewed combine financial and non-financial information, up from 22% in 2014; 18% are self-declared integrated reports.
The state of GRI reporting
83% of reports reviewed reference the Global Reporting Initiative (GRI); 54% have already transitioned to the GRI Standards launched in October 2016.
Governance is improving
39% of the 115 companies in our sample with ESG data on Bloomberg Terminals have links between sustainability performance and executive remuneration.
The future is digital
Only 20% of reports reviewed provide a digital-first experience; but 53% of member companies include the bulk of their report content online to complement their PDF report (2017: 44%).
Reporting matters will continue into 2019 and beyond as WBCSD and its member companies work to improve corporate reporting on the road to a sustainable future.