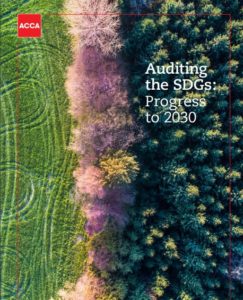 The 2020s have been called 'the decade of action' for the United Nations' Sustainable Development Goals (SDGs) if they are to be achieved by the deadline of 2030. ACCA (the Association of Chartered Certified Accountants) highlights today in a new report Auditing the SDGs: Progress to 2030 the importance of measuring progress given the scale of the challenges at hand.
The report states that the systems, institutions and outcomes generated at present are insufficient to build the type of socially just and environmentally sustainable prosperity that's needed now and in the future. As current events demonstrate with the Covid-19 outbreak, better access to public goods and stronger support for those most vulnerable to shocks – all underpinned by climate action – must become the norm.
To tackle this, ACCA recommends a shift in focus to ensure the interconnection of social, environmental, economic and institutional issues become a priority for policymakers. It recommends that Supreme Audit Institutions (SAIs) are vital to this due to their commitment to assessing the integration of the SDGs into governments' national plans and their ongoing work to measure progress against SDG targets.
Report author Jimmy Greer, head of sustainability at ACCA says: 'Around the world we need to support the work being done to hold our governments accountable for their progress to achieve SDGs. This is an essential component in 'transforming our world' – the phrase used by the UN as the headline to the SDGs Declaration.
'That's why we see Supreme Audit Institutions (SAIs) as key actors in delivery of the SDGs – the people with the skills and abilities to audit and track progress across the many levels where the SDGs are relevant.
'The effective implementation of SDGs demands an understanding of the new types of decision-making by governments that's more connected to and co-designed with civil society than what has come before. Auditors' global approach to collaborative ways of working, their knowledge sharing and their strong engagement with the 2030 Agenda, can be a model for others looking to take on the challenges.'
The report explains that while the 17 SDGs are off track to be met by 2030, for governments it's the journey towards 2030 that's of equal importance.
Jimmy Greer concludes: 'This 'decade of action' can be alternatively understood as a decade of transition: moving from a model that's no longer fit for purpose, to a more appropriate one which is more resilient to emerging risks, corrective of inherent market and governance failures and capable of opening up new opportunities for all.'