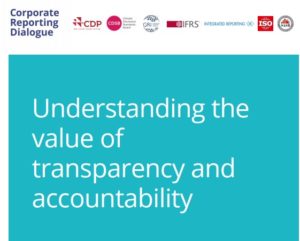 The world's leading financial and non-financial corporate reporting frameworks have the same common foundations, based on the key objectives of transparency and accountability, according to a position paper published by the framework providers. The position paper sets out the seven key principles report preparers should follow for achieving such transparency and accountability.
Participants of the Corporate Reporting Dialogue – an initiative convened by the International Integrated Reporting Council bringing together the major international reporting frameworks – identify transparency and accountability as critical to achieving high quality governance mechanisms and empowerment of stakeholders in modern societies and markets.
Furthermore, such transparency and accountability enables better decision-making by market parties and serves the public good.

In the paper, entitled "Understanding the value of transparency and accountability", CDP, the Climate Disclosure Standards Board, the Global Reporting Initiative, the International Accounting Standards Board, the International Integrated Reporting Council, the International Organization for Standardization and the Sustainability Accounting Standards Board set out seven principles of transparency and accountability that they commonly believe are fundamental to corporate reporting: materiality, completeness, accuracy, balance, clarity, comparability and reliability.
Download the position paper (pdf)