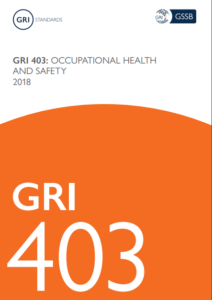 Healthy and safe working conditions are recognized as a human right – yet it is estimated that close to 2.8 million people die from work-related injuries and illnesses every year, according to the International Labour Organization. A lack of robust occupational health and safety (OH&S) management can put the lives of workers and their families at risk and can limit countries' potential for sustainable development. To address these concerns, the Global Reporting Initiative (GRI) is launching an updated version of its widely used GRI 403: Occupational Health and Safety reporting standard.
"We saw that there was a need for a rigorous methodology for measuring OH&S performance, based on leading rather than lagging indicators. The Global Sustainability Standards Board set out to create a world-class reporting standard that emphasizes measures that prevent injuries and ill health, aligned with key instruments and with the latest trends in OH&S management" says Judy Kuszewski, Chair of the Global Sustainability Standards Board.
The standard puts the worker at the center. First, it covers a wide range of workers that goes beyond the traditional idea of employees on a payroll, offering a response to modern ways of working – such as the gig economy or the mobile workforce. Second, the standard places a greater emphasis on worker's recovery from work-related injuries – leaving behind those measures that focus solely on lost work time.
To provide healthy and safe working conditions, organizations need a robust management approach that drives the prevention of physical and mental harm and the promotion of workers' health. The standard includes disclosures on hazard identification, risk assessment, occupational health services, worker participation, and training, which aim to protect workers from work-related injuries and ill health.
Moreover, as lifestyle-related choices also affect workers' overall health condition, the standard includes disclosures on non-occupational healthcare services and voluntary health promotion programs. These help workers lead a healthier lifestyle, for example, by improving their diet or quitting smoking.
Joint effort by world-class OH&S experts
One of the objectives of the updated standard was to bring it in line with internationally agreed best practice and harmonize the content with other relevant health and safety instruments. The standard is aligned with key ILO instruments and with the newly released ISO 45001 on occupational health and safety management systems.
The update was carried out by a diverse group of stakeholders that brought in a combination of knowledge and experience in occupational health and safety. The Project Working Group included representatives from businesses, labor, civil society, investors and international organizations – such as the Canadian Labour Congress, the Center for Safety and Health Sustainability (CSHS), Heineken International, the Institution of Occupational Safety and Health (IOSH), the International Labour Organization (ILO), the International SOS Foundation, Norsk Hydro ASA and the US Occupational Safety and Health Administration, among many others.
Richard Jones, IOSH Head of Policy and Public Affairs, commented: "Standards like this, supporting transparency in operations and supply chains worldwide, can help ensure reports are meaningful and comparable and drive better health and safety performance – benefiting individuals, businesses and societies."
The benefits of occupational health and safety are far-reaching. A healthy workforce is more productive and engaged. Promoting a healthy work environment also helps to attract – and hold on to – talented workers. Implementing the new GRI 403 standard will help drive improvements in the lives of millions of workers around the globe.
Download the 403 standard (pdf)