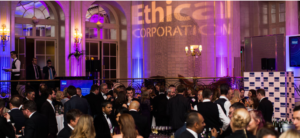 On Monday 16th October, over 200 of the leading figures in global responsible business gathered at Ethical Corporation's Eighth Annual Responsible Business Awards ceremony held at The Waldorf Hilton, London. Senior business executives from all corners of the globe, including; USA, Australia, India, Thailand, Mexico and Japan attended the Ceremony making this a truly international ceremony recognising leading strategies from across the globe.
The judges were looking for organisations who have been agenda-leading in corporate responsibility in 2017, with applications backed up by verifiable evidence from third parties.
The twenty accolades were awarded for being stand-out projects that demonstrate true leadership through impact, scalability and innovation. The judges were particularly looking for a focus on metrics that can showcase a truly innovative and leading approach to mainstreaming responsible business.
The awards in the reporting categories were distributed as follows:
Sustainability Report of the Year
Shortlist:
·         GSK
·         METRO Wholesale & Food Specialist AG
·         AHA
·         Enel Spa
·         Thai Union Group
·         The Co-op
·         Teck
HIGHLY COMMENDED: Thai Union Group – Thai Union Group's Sustainability Report 2016
"Overall this company has have been innovative in their use of @seachange and thoroughly explained how they report."
WINNER: Teck – Teck 2016 Sustainability Report
"All in all a very honest, transparent and well thought through presentation that is focusing on the current and future material issues."
Integrated Report of the Year
Shortlist:
·         HEINEKEN International
·         Marks & Spencer
·         BASF
·         ING
·         The Crown Estate
·         Vancity
·         Sanofi
·         UniCredit
·         Lloyds Banking Group
HIGHLY COMMENDED: Marks & Spencer – Marks & Spencer Annual Report 2017
"A very good report. The narrative represents integrated thinking, and a good effort on reporting numbers, including dimensions where targets were not met."
WINNER: BASF – BASF Report 2016
"A truly integrated report with an impressive set of measures and presented in an accessible manner. This is a seasoned integrated report."