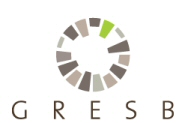 GRESB, the leading global benchmark for portfolio-level sustainability assessment of real estate companies and funds, today released its 2015 Survey. The data is used by almost 50 institutional investors, representing USD 6 trillion in assets under management. This year, GRESB delivers a stable survey, supported by newly developed tools to streamline the sustainability data reporting process for the growing number of participating property companies and funds.
Institutional investors increasingly recognize the materiality of sustainability information for their decision-making, and demand reliable, top-quality ESG data on their assets and portfolios. "GRESB provides us with detailed information on how companies actually implement sustainability. It's an important part of our investment process and helps us compare and contrast the companies we own and that we plan to own," says Patrick Kanters, Managing Director Global Real Estate & Infrastructure of APG Asset Management.
GRESB continuously develops new products and services to ensure and facilitate the integrity of the data and assessment process. "We are contributing to GRESB because we want to know how well we are doing in our sustainability performance and where we need to make improvements. It also provides us with a uniform framework to report to our investors. Reporting is important, responsibility is important, and GRESB is a leading factor in that," says Pieter Hendrikse, CEO EMEA of CBRE Global Investors.
In 2014, GRESB covered 637 funds representing USD 2.1 trillion in property value. Since its inception in 2009, GRESB has rated more than 1,000 REITs and funds globally on behalf of close to 50 institutional investors that on aggregate represent some USD 6 trillion. Nils Kok, CEO of GRESB: "The benchmark has become a global standard in the real estate industry, covering both private equity real estate funds and the listed property sector. Reporting to GRESB is for many companies a logical step to communicate sustainability KPIs and initiatives in a structured manner."
The 2015 Survey comes with refined questions and definitions, but consistent content, allowing participants to leverage their previous experience and benefit from new features, including pre-filling previous answers, automated connections from GRESB partner data providers and a new data converter for EPA Portfolio Manager. The automated data feed, developed in partnership with GRESB Data Associate Members allows users to directly load data from participating data providers' data collection systems to automatically complete the Performance Indicators section of the GRESB Survey. In collaboration with the US EPA, GRESB has created a converter to use Energy Star Portfolio Manager data for GRESB submissions, using a simple process.
The 2015 GRESB Survey is open from April 1 until July 1, 2015. The GRESB results will be released on September 2. For more information on the Survey visit www.gresb.com.
For further information please contact Rumyana Hristova at GRESB                    tel. +31(0