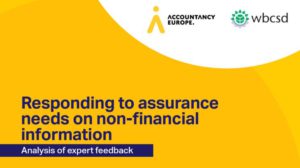 Accountancy Europe and the World Business Council for Sustainable Development (WBCSD) published a new report analyzing various ways to strengthen assurance practices related to corporate reporting on nonfinancial/sustainability information.
This important development comes on the heels of the
EU nonfinancial reporting directive
, which requires over 6,000 EU companies to disclose nonfinancial risks and opportunities.
To provide clarity, Accountancy Europe and WBCSD teamed up to analyze expert feedback on the discussion paper How to respond to assurance needs on non-financial information, which outlines six key steps for assurance providers to consider when undertaking assurance on nonfinancial information.
The two organizations combined their expertise from businesses and professional accountants to provide insight into how to make a company's performance more transparent, so that stakeholders can rely on all relevant – financial and nonfinancial – information in their decision-making.
Understanding nonfinancial risks and opportunities and other business context issues is becoming increasingly critical for the success of individual businesses and the financial community at large.
Ten years ago, the top global risks in terms of impact and likelihood didn't include social or environmental issues for the most part. But today they make up four of the top five – including extreme weather events, water crises, major natural disasters as well as climate change mitigation and adaptation.
Peter Bakker, President and CEO at WBCSD said, "For far too long sustainability practices have sat outside of the mainstream and not embedded within the business model of the company. Now however, increasingly the companies that achieve integration, are the ones that thrive. This work is a step in the right direction."
In addition, Olivier Boutellis-Taft, CEO at Accountancy Europe said, "People need to be able to rely on corporate information to decide if they will invest, buy products or sign an employment contract. This information needs to be trustworthy to strengthen confidence in companies and in markets, creating value in the long run. By working with WBCSD, we're helping make corporate performance more transparent, contributing to sustainable finance in Europe."
Stay tuned to see how assurance will become an important element in building  trust and confidence in reported information as companies enter into new, more sustainable, territory.