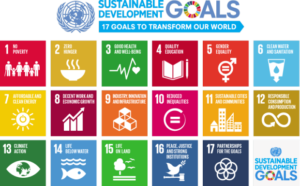 A ground-breaking initiative to drive corporate action on the Sustainable Development Goals (SDGs) has significantly advanced reporting practices and identified areas for further improvement. The Action Platform for Reporting on the SDGs leverages the Global Reporting Initiative (GRI) Standards and the Ten Principles of the UN Global Compact.  Over four years it engaged 59 senior business representatives from 23 countries in a peer-to-peer learning program to enable companies to define and improve their contribution to the SDGs.
Launched in March 2017 by the UN Global Compact and GRI, the Action platform has delivered:
Thought leadership – practical guidance, tools and resources developed, which enable business to integrate the SDGs into their reporting process
Capacity building – joint GRI, UN Global Compact and PwC training events involving more than 1,000 professionals, as well as the launch of SDG reporting courses
Advocacy – a convening role that has furthered the commitment of the private sector to disclosing their impact on the SDGs, including positioning with policy actors and investors
An analysis by SustainAbility of a sample of 20 companies that participated in the Corporate Action Group, convened as part of the Action Platform, revealed:
Focus on priorities – 50% of companies surveyed provided a targeted focus against a specific set of SDGs.
SDG target setting – While 60% of companies surveyed have business targets linked to the SDGs, more steps need to be taken to increase alignment with specific SDG targets
Business strategy integration – 40% of companies surveyed now specify SDG actions in relation to their core business, with 25% making direct links to their business strategy.
These findings come as the global landscape for SDG reporting continues to develop. New research from KPMG found that, of 5,200 leading companies across 52 countries, SDG-related reporting has increased from just 39% in 2017 to 69% in 2020.
Peter Paul van de Wiijs, GRI Chief External Affairs Officer, said: "The growing role of the private sector in achieving progress for the SDGs cannot be under-estimated. Our partnership with the UN Global Compact has helped companies increase understanding of the business relevance of the SDGs, as they assess and articulate their impacts and contributions. The next stages must focus on how we can achieve more collaboration at all levels, in order to deepen alignment between business practices and the SDGs, as empowered by reporting. GRI will continue to work closely with all stakeholders to support this aim."
Sanda Ojiambo, CEO & Executive Director of the UN Global Compact said: "Measurement, evaluation, transparency and accountability are integral parts of the 2030 Agenda for Sustainable Development. In partnership with GRI, our Action Platform has developed new tools for businesses and promoted learning to enhance the integration of the SDGs into reporting processes. Building on the work of the Action Platform, we will continue strengthen transparency and accountability with a uniform approach for tracking progress, inspiring leadership, and fostering ambitious goal-setting on the Ten Principles and the SDGs."
Esther An, Chief Sustainability Officer at City Developments Limited, who participated in the Action Platform said: "Sustainability goal setting, progress tracking and reporting are key to help businesses to be future fit for climate, social, economic and regulatory challenges. Investors need to be convinced of corporate reporters' forward looking strategy with clear goals and practices integrated into their business and value chain.  Prompt, clear and transparent disclosure of externally assured data will be the way forward for sustainability reporting."
Richard Ellis, Vice President, CSR, Walgreens Boots Alliance said: "The SDGs have helped define our approach to CSR and been an essential tool in raising the profile of these issues internally."
Samira Khan, Senior Manager, Global Impact Engagement, at Salesforce said: "Digital transformation can accelerate progress toward the SDGs by accelerating our view into impacts across global communities. At the same time, enabling more integrated and standardized reporting can influence the corporate blueprint to achieve the SDGs."
GRI and the UN Global Compact will continue to collaborate to leverage business reporting on progress towards the SDGs as part of the Decade of Action.