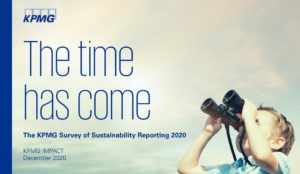 Businesses worldwide have a critical role to play in addressing the inherent, existential risks of biodiversity loss. Yet, less than one-quarter (23 percent) of companies worldwide at risk from the loss of biodiversity are currently disclosing that risk in their corporate reporting, according to The Time has Come, KPMG International's Survey of Sustainability Reporting 2020.
With Earth losing species at a rate 1,000 times greater than at any other time in recorded human history,1 and roughly US$44 trillion of economic value generation–more than half of global GDP — moderately or highly dependent on nature and its services,2 it is clear that the need for action is urgent.
KPMG's global survey reviewed corporate reporting from 5,200 companies — the top 100 companies by revenue in each of 52 different countries and jurisdictions.
While it is notable that 80 percent of the world's largest companies now report on sustainability, biodiversity-related risk remains significantly under-reported by the global business community.
Less than one-third (23 percent) of at-risk companies currently disclose biodiversity-related risks. This is despite repeated warnings about destruction of ecosystems and potentially dire consequences for people and the economy, the survey revealed. Mining is the only industry sector, according to the survey, in which a slim majority (51 percent) of companies currently report biodiversity-related risks.
Latin American companies are the most likely to report biodiversity-related risk (31 percent) while North American companies are the least likely (13 percent).
Furthermore, the survey found that the two UN Sustainable Development Goals (SDGs) focused on addressing the global biodiversity challenge (SDG 14: Life Below Water and SDG15: Life on Land) are the least prioritized of all the 17 SDGs by businesses worldwide.
Richard Threlfall, Head of KPMG IMPACT – an initiative that brings together professionals from KPMG firms to address the UN Sustainable Development Goals (SDGs) – said:
"Businesses have a responsibility to play their part in helping address the crisis of biodiversity loss, and a first step in doing so is recognizing that their supply chains are highly dependent on nature and ecosystem services. It is critical for all businesses to disclose the risks that biodiversity loss poses to their companies, as well as the impact their companies have on ecosystems. Our survey suggests that most companies have a long way to go when it comes to providing a full picture of business risks from biodiversity loss."
Adrian King, co-author of the survey, and a partner at KPMG Australia, and Chair of KPMG's global Climate Change & Sustainability network, said:
"Even though corporate reporting of biodiversity-related risk is currently low, I am optimistic that rapid improvement is possible. We have seen dramatic progress in the disclosure of climate-related risks by business since the Task Force on Climate-related Financial Disclosures (TCFD) was launched in 2015 and I expect to see a similar trend with nature and biodiversity-related disclosures."
Wim Bartels, co-author of the survey and a Corporate Reporting Partner at KPMG in the Netherlands, said:
"Many companies currently lack a sophisticated understanding of how biodiversity-related risk could affect their business. They also lack access to tools and methodologies to help them model and disclose the risk impacts. With the foundation of organizations such as the Task Force on Nature-related Financial Disclosures (TNFD), disclosures are likely to take a sharp upward trajectory."
Further key findings from the KPMG Survey of Sustainability Reporting 2020 include:
North America has the highest regional reporting rate — 90 percent of North American companies report on sustainability
Around two-thirds (65 percent) of reporting companies worldwide now have targets in place to reduce their carbon emissions
More than two-thirds (69 percent) of reporting companies now connect their business activities with the UN Sustainable development Goals (SDGs) in their corporate reporting, but few (14 percent) disclose how they contribute to the global problems the SDGs seek to solve
The SDGs most often prioritized by businesses worldwide are SDG 8 -Decent Work and Economic Growth, SDG 13 -Climate Action, and SDG 12 -Responsible Consumption & Production.
About the survey
This research was conducted in 2020 by climate change and sustainability professionals at KPMG firms. They reviewed corporate reporting from the 5,200 largest companies by revenue across 52 different countries and jurisdictions including the world's 250 largest companies as defined by the Fortune Global 500 ranking for 2019. Reporting reviewed included annual financial or integrated reports, sustainability reports, stand-alone reports and company websites published between 1 July 2019 and 30 June 2020. This is the 11th edition of the KPMG Survey of Sustainability Reporting which was first published in 1993.
This research has been conducted by KPMG IMPACT, a newly established initiative of KPMG firms. KPMG IMPACT brings together professionals and subject matter experts from across KPMG's global organization to support the delivery of the United Nations Sustainable Development Goals (SDGs).