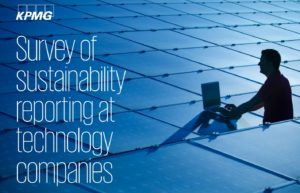 The Survey of Sustainability Reporting at Technology Companies by KPMG reveals that much progress has been made in sustainability reporting and assurance. The survey offers insights for technology company leaders, boards, and sustainability professionals. Its aim is to support those who have a responsibility for assessing and preparing their own organization's sustainability reporting.
The survey also serves as a guide to investors, asset managers, and ratings agencies who now factor sustainability or Environmental, Social and Governance (ESG) information into their assessment of corporate performance and risk.
This report benchmarks technology companies against other sectors and the world's 250 largest companies. Key findings that reveal opportunities include the following:
83% of technology companies now report on sustainability. This is similar to other industries but lags the benchmark set by the world's 250 largest companies (96%).
Half of technology companies acknowledge the risk of climate change in their financial reporting. While this is higher than the overall industries average (39%), it is still below the mark set by the world's 250 largest companies (56%).
Just 24% of technology companies report in line with the recommendations of the TCFD (Task Force on Climate-related Financial Disclosures), placing them between the overall industries average (18%) and the world's 250 largest companies (37%).
Only 44% of technology companies link their carbon reduction targets to global climate goals, trailing the overall industries average (55%).
While not currently considered a sector at high risk due to biodiversity loss, just 9% of technology companies recognize biodiversity loss as a risk in their reporting.