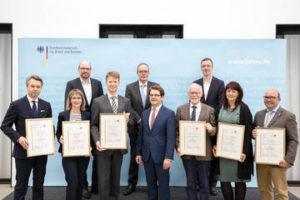 The best sustainability reports from the group of the 150 largest German companies are those from BMW, Miele and the KfW-Bankengruppe. In SME sector the organic pioneer Arborvitae, the outdoor outfitter Vaude and the concrete and natural stone manufacturer Rinn were awarded as the winners. The companies were honored on September 23, 2016 in the Federal Ministry of Labour at the conference "CSR reporting before the reporting obligation".
Thorben Albrecht, State Secretary, Federal Ministry of Labour and Social Affairs (BMAS), highlighted the importance of good CSR reporting for sustainable entrepreneurial actions: "If management and employees are involved in the reporting process, then this increases the awareness throughout the company for sustainability as an important future topic and encourages innovation. Retracted processes are scrutinized and the social and environmental impacts considered, including those in the supply chain. "
The award scheme is organised by Institut für ökologische Wirtschaftsforschung (IÖW) and future e. V.