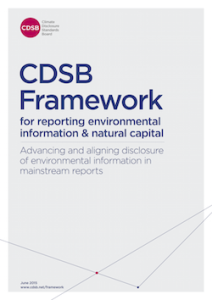 The CDSB Framework sets out an approach to reporting environmental information & natural capital in mainstream reports, such as the annual report, 10-K filing or integrated report.
The CDSB Framework for reporting environmental information & natural capital is designed to help organizations prepare and present environmental information in mainstream reports for the benefit of investors. Information prepared in accordance with the CDSB Framework is designed to allow investors to assess the relationship between specific environmental matters and the organization's strategy, performance and prospects.
Through the provision of robust environmental information, CDSB hopes to encourage analysis and decision-making by investors that recognizes the dependence and impacts of economic and financial stability on natural capital.
The objectives of the CDSB Framework are to:
Help companies to provide clear, concise and consistent information to investors that connects the organisation's environmental performance with its overall strategy, performance and prospects.
Enable & encourage investor decision making on the allocation of financial capital to activity that supports environmental protection).
Add value to an organisation's existing mainstream report, in a way that minimises the reporting burden and simplifies the reporting process.
The Framework also:
Supports compliance with regulatory reporting requirements with current and emerging requirements for environmental reporting, such as the EU Non-Financial Reporting Directive.
Aligns & complements the objectives of financial reporting to provide environmental information about the reporting organisation that is connected with financial information.
Encourages standardisation of environmental information reporting coalescing around the most widely shared & tested reporting approaches that are emerging around the world – CDP, GRI, SASB, IFRS.
Supports the rigour that is appropriate for information provided to investors by providing reporting requirements and guiding principles that represent suitable criteria for assurance activities.
The CDSB Framework for reporting environmental information & natural capital builds on
 the Climate Change Reporting Framework, which remains suitable for preparing detailed disclosures on climate change-related information in mainstream reports.
The CDSB Framework will be complementary to the Natural Capital Protocol to report natural capital information prepared according to the protocol in a company's mainstream report.
The development of the CDSB Framework has been overseen by the CDSB Technical Working Group, consisting of the largest accounting firms, academia and companies.
Why we need a framework
Voluntary and mandatory reporting schemes on sustainability have multiplied alongside stock exchange rules, rating agencies, company law and reporting guidance. There is no single coherent standard about how companies should identify relevant information on natural capital and how users of such information can interpret it. In the absence of such a standard, information is inconsistent, with too much or too little information. Financial institutions are not taking account of environmental factors in their decision-making.
"As investors we find it instrumental to be able to evaluate and compare companies on their sustainability performance. The lack of a standard that creates alignment in the reporting of environmental & natural capital information makes it hard to do so. We hope that others will get behind the CDSB Framework for reporting environmental information & natural capital so that it can evolve to become the standard the investor community needs." – Marcos Mancini, Director of Sustainability, Banorte