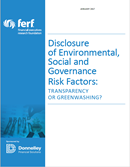 As ESG risk takes center stage in the United States and globally, CEOs, CFOs and public company boards examining where ESG risk factors play a role in their investor communications and and their long-term strategy, and asking if their disclosures are keeping pace with stakeholders' evolving needs. To help senior finance leaders in understanding how ESG risk disclosures affect the perception of, and potential investment in, their organizations, Financial Executives Research Foundation (FERF) interviewed subject matter experts from a variety of industries.
The resulting study, produced in collaboration with Donnelley Financial Solutions, aims to bridge the gap between the ESG information companies are currently disclosing with what investors and other key stakeholders want to know.
Some of the key findings include:
Investors want ESG information and are obtaining it from many different places.
Having a sustainability program and/or producing a CSR report are not the same thing as having a sustainable business strategy.
Companies need to take a leadership role and determine the most important sustainability and ESG issues for creating long-term value in their businesses.
Big data is about to collide with sustainability and ESG to a large extent.
The desire for additional ESG information falls within a broader appreciation of the value of an organization's marketplace reputation, and growing regulatory interest in ESG risk factors.
For instance, the U.S. SEC issued a concept release in April of 2016 asking for required disclosures under Regulation S-K, and a call for increased sustainability related disclosures topped investors' desires.
Sustainability, along with revisions to business description and management discussion & analysis (MD&A) requirements, triggered the most comment letters following an SEC concept release in April.
Keith Higgins, director of corporation finance at the Securities and Exchange Commission, told the first annual Pacesetters in Financial Reporting Conference in New York that a majority of the more than 360 comment letters the SEC received touched in some way on sustainability-related issues.
Access the FERF/Donnelley Financial Solutions report here.