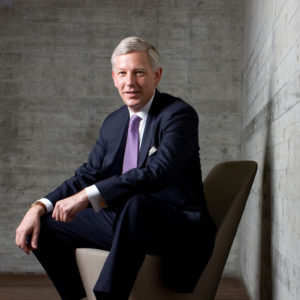 Dominic Barton, Senior Partner and former Global Managing Partner from 2009 to 2018 at McKinsey & Company, has been appointed Chair of the International Integrated Reporting Council (IIRC), the global body driving reform in company reporting.
Mr. Barton will bring leading thinking on business strategy, the shift to long-term investment and on the future of capitalism, to drive the IIRC's global mission to make integrated reporting the global norm.
Integrated reporting has been established since 2010 as a broad-based framework for business and investment decisions which are long-term, inclusive and with purpose.
Mr. Barton will Chair a meeting of the IIRC in Paris today (Thursday 4 October), at which a new global strategic phase for the coalition is being launched, 'the Momentum Phase'. Key aspects of the new strategic phase include advancing integrated thinking as part of corporate governance reform, facilitating alignment in the corporate reporting system and accelerating adoption in the United States and China.
Dominic Barton said: "I believe that through the adoption of integrated reporting internationally we can make real changes to the way businesses and our markets as a whole function. We can ensure that business is working for society, for the planet and for all stakeholders. That is why the first decision I made when stepping down from the global managing partner role at McKinsey was to join the IIRC as its Council Chair and I look forward to working with the team, as we launch this new momentum phase."
Commenting on the appointment, long-time advocate of integrated reporting, Paul Polman, CEO of Unilever said: "Successfully operating a business requires understanding the human, natural and social inputs which create value. Integrated reporting helps us to identify risks and opportunities and build a sustainable business model.  This approach comes naturally to us at Unilever, and it is one that we believe every business has the potential to benefit from and will do so in the future. I am delighted Dominic Barton is taking up a global leadership role to advocate for this new and better approach to doing business worldwide."
Larry Fink, CEO of BlackRock added: "Dominic has been one of the business community's strongest advocates for long-term thinking, and I can't think of a better individual to chair the IIRC.  His vision and his ability to build consensus will be invaluable to the IIRC's work."
Mr. Barton will take over from Professor Judge Mervyn King, who will continue to undertake global advocacy for integrated reporting as Chair Emeritus of the Council and as a world leader in the field of corporate governance.
Commenting, Barry Melancon, Chair of the IIRC Board and President of AICPA said: "When Mervyn helped found the IIRC back in 2010 integrated reporting was just an idea. He will step down at a time when 1,600 organizations in over 65 countries are using the principles of integrated reporting to inform the way they think, act and communicate about value creation."
Richard Howitt, Chief Executive Officer, IIRC added: "Dominic's appointment is a sure sign of the momentum which integrated reporting continues to build across the world. As one of the world's leading proponents for long-termism and inclusive capitalism, I am delighted that Dominic Barton will be working with us to drive that momentum towards integrated reporting globally as Chair of the IIRC Council."