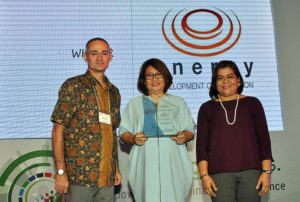 The Philippines' biggest geothermal company, Energy Development Corporation (EDC), announces having won the Best Sustainability Report Award for its 2014 performance report entitled "Execute and Deliver" in the recently concluded ASEAN Corporate Sustainability Awards held at the Manila Marriot Grand Ballroom Hotel.
EDC bested other companies in the Philippines, Singapore, Malaysia, and India that were shortlisted by the awards committee.
The award was received by Ms. Regina Victoria Pascual, EDC Head of Environment, Safety, and Health Group (center) and Ms. Frances Ariola, EDC Corporate Communications Officer (right), see picture above.
"Execute and Deliver" is EDC's 5th integrated sustainability and financial report that follows the Global Reporting Initiative's (GRI) most widely used sustainability reporting framework in the world.  It disclosed not only the company's record high recurring net income of P9.3 billion but also the company's economic, environmental, and social performance.
As one of the earliest sustainability reporters and adopters of the GRI in the country, EDC has been measuring and reporting on its environmental and social impacts to its stakeholders for their informed decision since 2010.  The company produced the first sustainability report in the Philippines that was validated by the GRI's head office in Amsterdam in 2011.