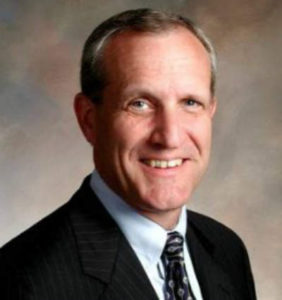 Eric Hespenheide has been appointed as the Chairman of the GRI Board of Directors, effective 1 January 2018. A familiar figure in the sustainability reporting world, and a long-term contributor to GRI's multi-stakeholder network, Eric brings a wealth of multi-faceted experience in both financial and non-financial reporting to lead the organization into the next decade. He previously served as Chairman of the GRI Global Sustainability Standards Board (GSSB) and subsequently as the Interim Chief Executive of GRI, where he led the roll-out of the GRI Sustainability Reporting Standards (GRI Standards).
"Eric Hespenheide's broad expertise will be of tremendous value to GRI," said Christianna "Christy" Wood, the outgoing Chairman of the Board of Directors. "His background in assurance, financial, non-financial and integrated reporting will help the organization advance the quality of sustainability disclosures and the harmonization of the reporting landscape. I am confident that Eric will continue GRI's efforts to empower decisions that create social, environmental and economic benefits for everyone."
GRI Chief Executive Tim Mohin added: "Speaking on behalf of the GRI staff, we are delighted with Eric's appointment as Chairman of the Board. With his in-depth knowledge and strong connections to the team, Eric will be a strong leader of GRI. I also would like to thank Christy Wood for her years of service."
"I am thrilled to take on this new challenge with GRI, which remains the uncontested leader in corporate responsibility reporting standards. It is an honor to take on this task and build on Christy's achievements, continuing to help organizations worldwide make sustainable decisions for a positive change," Eric Hespenheide commented.
Serving the maximum term of four years as Chair, Christy Wood led GRI and its Board through a transformational governance change into a formal standard-setter structure, by separating out its commercial activities, thereby ensuring that the public interest is solely served in the setting of the GRI Standards. Christy will become a 2018 Fellow at Harvard University's "Advanced Leadership Initiative".
Prior to this appointment, Eric Hespenheide had a long and distinguished career with Deloitte, most recently as a Partner, leading their global sustainability reporting and assurance practice. He is the former Chair of the American Institute of Certified Public Accountants (AICPA) Sustainability Assurance and Advisory Task Force, a member of the Institute of Internal Auditors (IIA) Global Advocacy Committee and a member of the Board of Advisors for E-Revalue. He has also served on the working group of the International Integrated Reporting Council during the development of the reporting framework. In addition, Eric sits on the national board of directors of the United Cerebral Palsy Association and the Dean's Advisory Committee at Louisiana State University and the University of Detroit Mercy.